Read what YWCA accomplished in 2018, as well as the impact YWCA plans to make in the coming year. Celebrate YWCA Seattle | King | Snohomish's 125th anniversary in 2019 by joining us in our mission of eliminating racism and empowering women.
The YWCA Seattle | King | Snohomish community is made up of thousands of supporters, advocates, change makers, and committed leaders—just like you. I want to take a moment to reflect on 2018 and share my gratitude for your support. Together, we achieved some big successes and they wouldn't have happened without you.
In the last year, we:
Delivered critically needed services for women and girls in the community: affordable housing, emergency shelter, job training, support for gender-based violence, health access, and more;

Led effective advocacy in our state and beyond with representatives who championed YWCA's key issues at every level, from the city and county to 

Washington D.C.

 and 

Olympia

;

Launched an innovative new partnership in Snohomish County, Homeward House Collaborative, to break the cycle of addiction for mothers and children impacted by the opioid epidemic.
Just to name a few. As we enter 2019 and look to the future, there is much to be proud of. Yet, our work is not done and we have our sights set on continuing to serve our community in the best way we can.
We will do this through increasing the impact of our organization in support of our mission to eliminate racism and empower women. We will elevate our voice as advocates for public policies that promote equity and opportunity. And we will continue to deliver effective, client-centered services to more than 12,000 people each year.
As we start the year and prepare to celebrate 125 years of service at YWCA, I want to thank you. Thank you for your generous support—in all the way that it comes to us—and for partnering with us to strengthen our shared community.
Read more blog posts from YWCA's CEO, Maria Chavez Wilcox: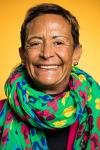 Maria Chavez-Wilcox is the Chief Executive Officer of YWCA Seattle | King | Snohomish. She is the organization's first Latina CEO and has over thirty years of experience as a nonprofit executive, social services advocate, community leader, and philanthropist
We share the stories of our program participants, programs, and staff, as well as news about the agency and what's happening in our King and Snohomish community.
Featured Image