Maria Chavez Wilcox, CEO of YWCA Seattle | King | Snohomish, joined YWCAs from across the country in Washington D.C. to advocate on behalf of women, girls, and families.
I have spent most of this week marching the halls of Washington D. C. with eight other YWCA leaders, including YWCA USA CEO, Alejandra Castillo.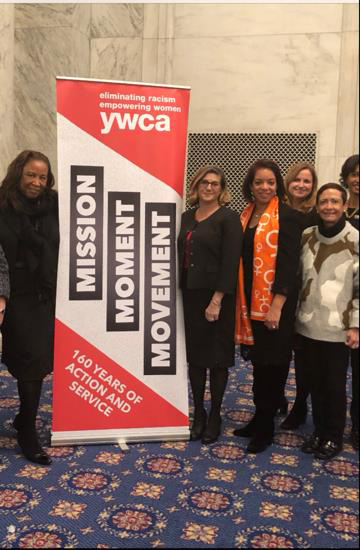 We were there where Nancy Pelosi spoke for eight hours to defend the rights of Dreamers. We had a full day of sessions with legislators, including meetings with Sen. Pramila Jayapal, Sen. Patty Murray, and Sen. Maria Cantwell. I led a panel discussion on workforce development for women and communities of color with more than 200 attendees, including the members of the Economic Development Association. 
It's been an honor to be up front and center on behalf of YWCA, taking action on these critical issues affecting our communities and the people we serve. This trip has been so inspiring, and I'm full of ideas to keep the momentum going back in Seattle!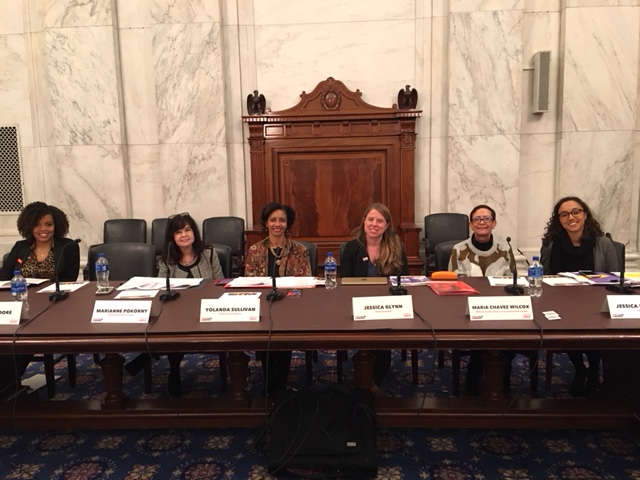 YWCA + ADVOCACY = CHANGE
When many people think of YWCA, they think first about our work as a provider of social services for housing, economic advancement, health, and safety. 
Fewer people realize that advocacy permeates everything we do. It plays a critical role in our work to end inequity by addressing the root causes of injustice. This advocacy happens at every level, from national to local, and includes our staff, supporters, and program participants.
A quote I like to use to describe our work comes from the civil rights activist, Angela Davis. "I am no longer accepting the things I cannot change. I'm changing the things I cannot accept."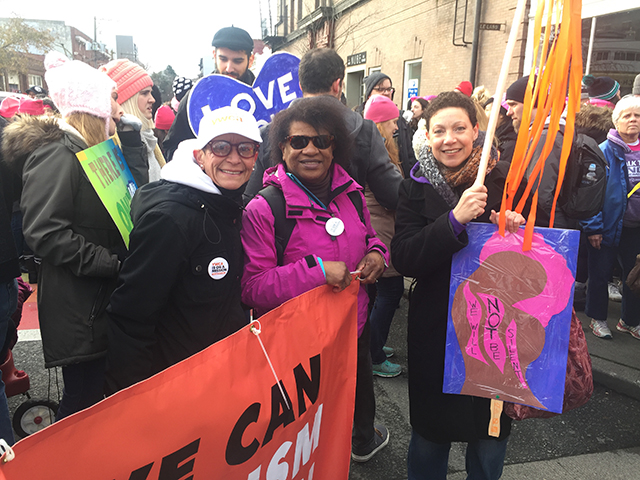 These words echoed in my head when YWCA participated in last month's MLK Day and Women's March in Seattle. After watching the ongoing debates around fairness and dignity for all communities, it became clear to me that I needed to bring my voice to Capitol Hill.
It takes more than a march to create change. It takes action the next day, and every day after that, to change the things we cannot accept. 
SPEAKING UP FOR WOMEN, FAMILIES, AND DREAMERS
My agenda on Capitol Hill was loud and clear, and it came from the neighborhoods where we help more than 15,000 people each year. I spoke about policy issues that impact their lives, including: 
Workforce development for underserved populations
Paid sick, safe, and family leave for workers
Gender-based violence and services for DV survivors
Protecting the rights of Dreamers through DACA
All of these issues touch the lives of the women and girls in YWCA's programs, but advocating for protections of immigrants and refugees is an issue that hits closest to home for me. 
I am an immigrant. I was born in Lima, Peru and raised by a single mother who brought me to the United States when I was a young child. Neither one of us spoke English and we had no support network.
I became a citizen when my mother got married, but I understand many of the barriers that immigrants in our country face, and the fears they feel.  
These fears are made worse by the threat of eliminating protections for Dreamers, young people who have called the United States home for most of their lives. It is a grave injustice to youth who were guaranteed safety and security within our borders to rescind DACA. 
I told our legislators that we must pass a clean DACA proposal that ensures fairness, keeps families together, and relieves the tremendous stress and undue trauma that Dreamers face.
BRINGING IT BACK HOME
YWCA Seattle | King | Snohomish has taken action through community-based work for nearly 125 years. Now is the time for us to speak out, speak up, and make our voices heard. 
Whether it's supporting women who summon the courage to leave abusive partners, providing resources to immigrant families, or supporting girls and women of color who battle the all-too-real realities of racism and bigotry in our region, we've been walking the walk for generations.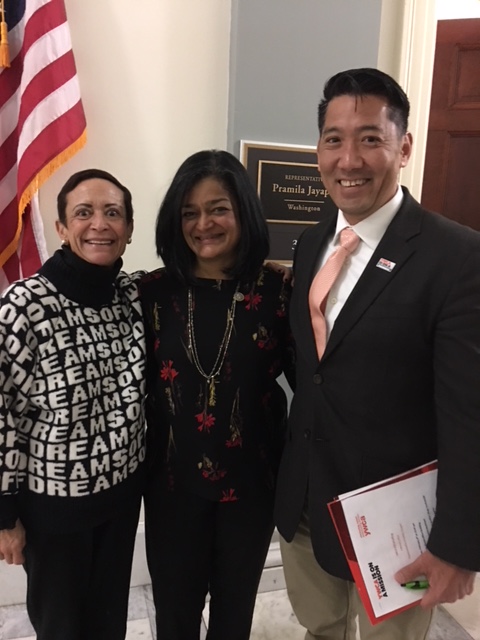 We call on you, our community, to take action today. Anyone can be an advocate!
Act now to help get the Dream Act passed and be part of the YWCA sisterhood across the country.
Join our community of advocates in Washington State and visit the Firesteel YWCA Action Center. Read our top priorities and send a message to your elected officials about why these issues matter in your community.
We are more committed than ever before to paving the path ahead, and determined to amplify women's voices today for a better tomorrow. 
At this moment in America, YWCA is building a lasting movement for social justice, because equity should not be a political issue. 
Together, we can make sure this isn't just a year when women exercise their democratic rights – it must be the year when America's women leverage our collective power to right wrongs. 
2018 will be the year we all have our say, and start to change the things we no longer accept.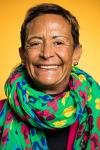 Maria Chavez-Wilcox is the Chief Executive Officer of YWCA Seattle | King | Snohomish. She is the organization's first Latina CEO and has over thirty years of experience as a nonprofit executive, social services advocate, community leader, and philanthropist
We share the stories of our program participants, programs, and staff, as well as news about the agency and what's happening in our King and Snohomish community.
Featured Image