YWCA Gratitude Report 2018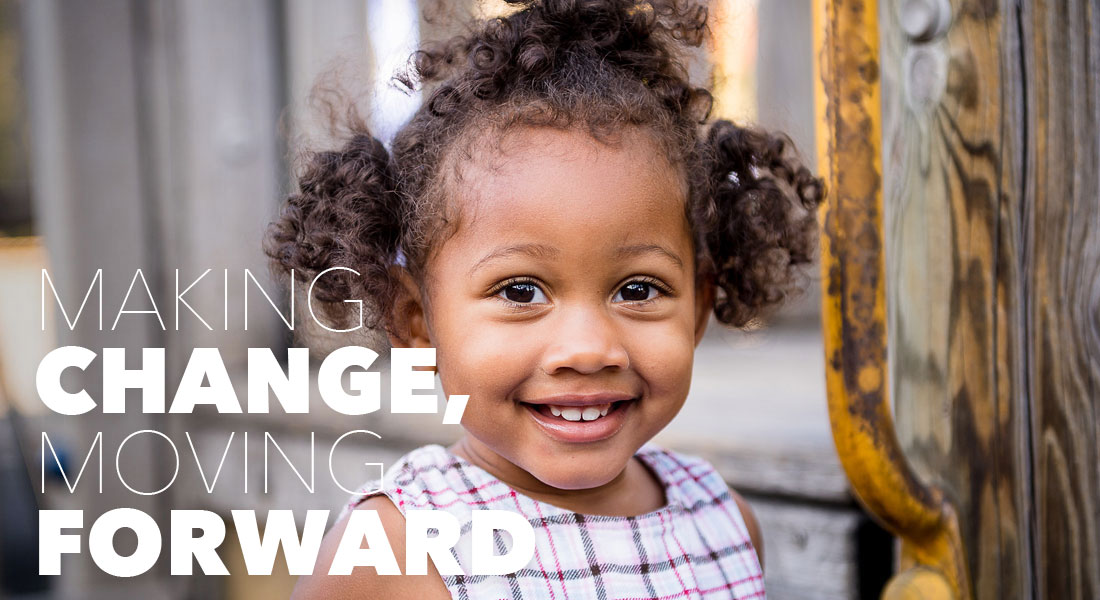 "When a woman moves forward, the whole family moves forward. When a family moves forward, the whole nation moves forward."

- Alfre Woodard, Keynote speaker at YWCA's 30th Annual King County Luncheon

Greetings friends!
At YWCA, we know that when one person is uplifted, they uplift others.
We see it in the women who walk through our doors looking for help, and graduate YWCA's programs ready to help others. In the people and organizations who donate their time, treasure, and talents to building a stronger community for all people. As well as the dedicated staff who work every day to achieve our mission.
Together, we are creating real change, and moving our mission forward.
This momentum will propel us into the future, as our community works to find solutions to the challenges of poverty, homelessness, health, and safety. We will continue to examine how race and gender impact all of these areas, and work to eliminate disparities for women and girls of color.
Thank you for supporting YWCA's mission to eliminate racism, empower women, and create a thriving community for all people. We deeply appreciate all of the dedicated partners like you who are taking action, making change, and moving forward toward a brighter future. Onward!
With gratitude,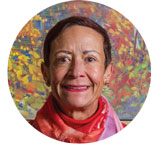 MARIA CHAVEZ WILCOX
Chief Executive Officer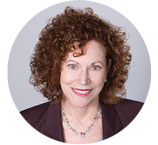 MARY SNAPP
Board Chair

"YWCA does critical work to address some of the biggest challenges of our community, connecting women and families with the services, resources, and opportunities they need to thrive."

- Robyn Corr, YWCA Board Member, Immediate Past Chair
YWCA Seattle | King | Snohomish serves more than 12,000 women, men, and children annually. With 20+ locations across two counties, YWCA works where we're needed most to eliminate disparities in housing, economic advancement, health, and safety.
This work is done through a combination of direct services to meet immediate needs of our community, and advocacy for policies that will create lasting and widespread change.
YWCA programs are focused on people who face the greatest barriers to safety, stability, and opportunity. Below is a snapshot of who we served in 2017.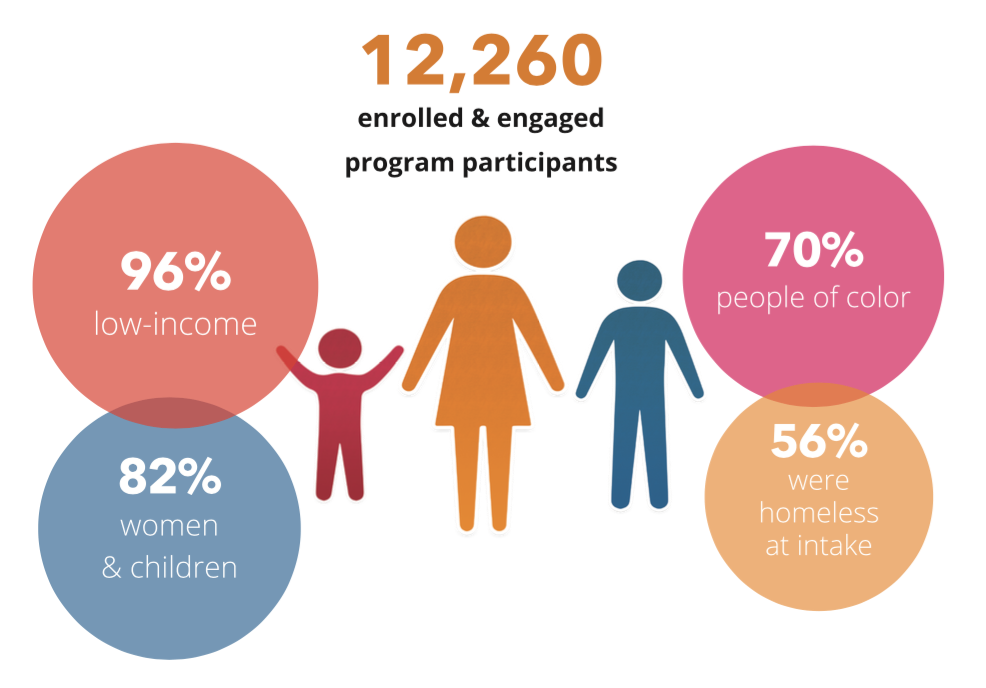 The populations served by YWCA reflect disparities in the community, where a disproportionate number of women and families of color live in poverty and experience homelessness. This is why we work to address the root causes of inequity and create a thriving community for all people.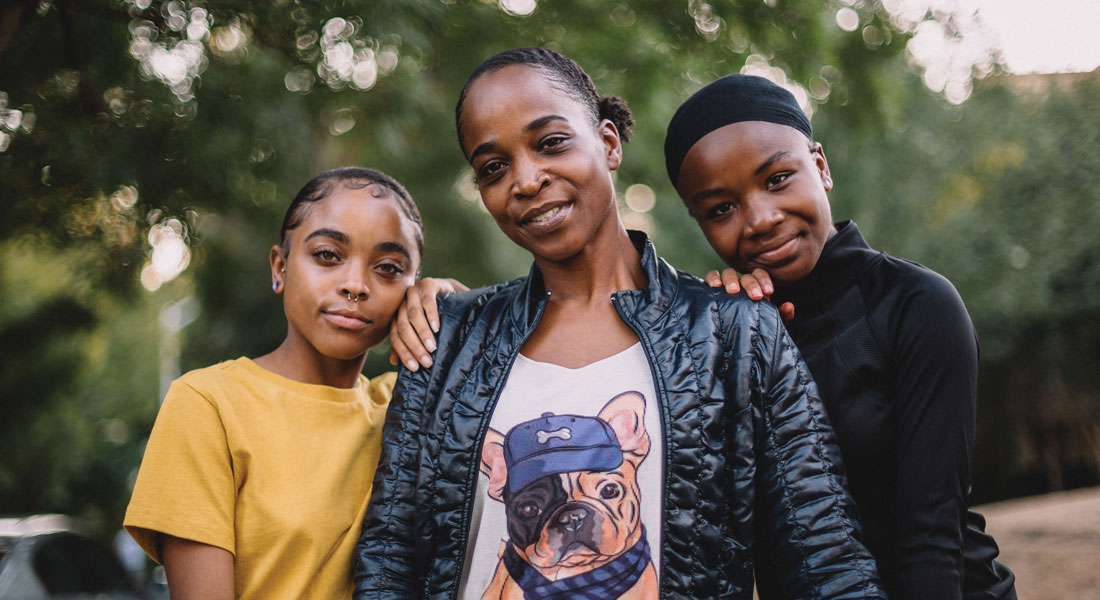 TeShauna, like most mothers, is a woman who can get things done. Her priority is family, and she's spent 23 years raising five kids and doing everything to protect, support, and empower them.
This skill was evident when she came to YWCA for help with housing in 2018. "I had a game plan and a timeline," TeShauna said. "I wanted to finish the program in six months, and for my kids to know that this was only a temporary situation."
Project Self-Sufficiency is a program at YWCA Willows that serves low-income families experiencing homelessness in King County; 71% of participants are women and children of color.
Participants are connected with essential services, from child care to job training. They also work one-on-one with a case manager to create a self-sufficiency plan that will increase stability for their family.
"YWCA helped us in so many ways beyond housing," said TeShauna. "My case manager Essie kept me grounded because she always listened. She gave me confidence in my own success." Getting connected to essential services also made a big difference for TeShauna, especially transportation assistance and mental health counseling.
TeShauna achieved her goals and her family recently moved into their own apartment in Wallingford. Her children will have stability and security as they complete high school, and her whole family will have a safe place to create plans for their future.

YWCA direct services are focused on housing stability, economic advancement, health, and safety. This holistic approach means many participants receive wrap-around services that meet their unique needs.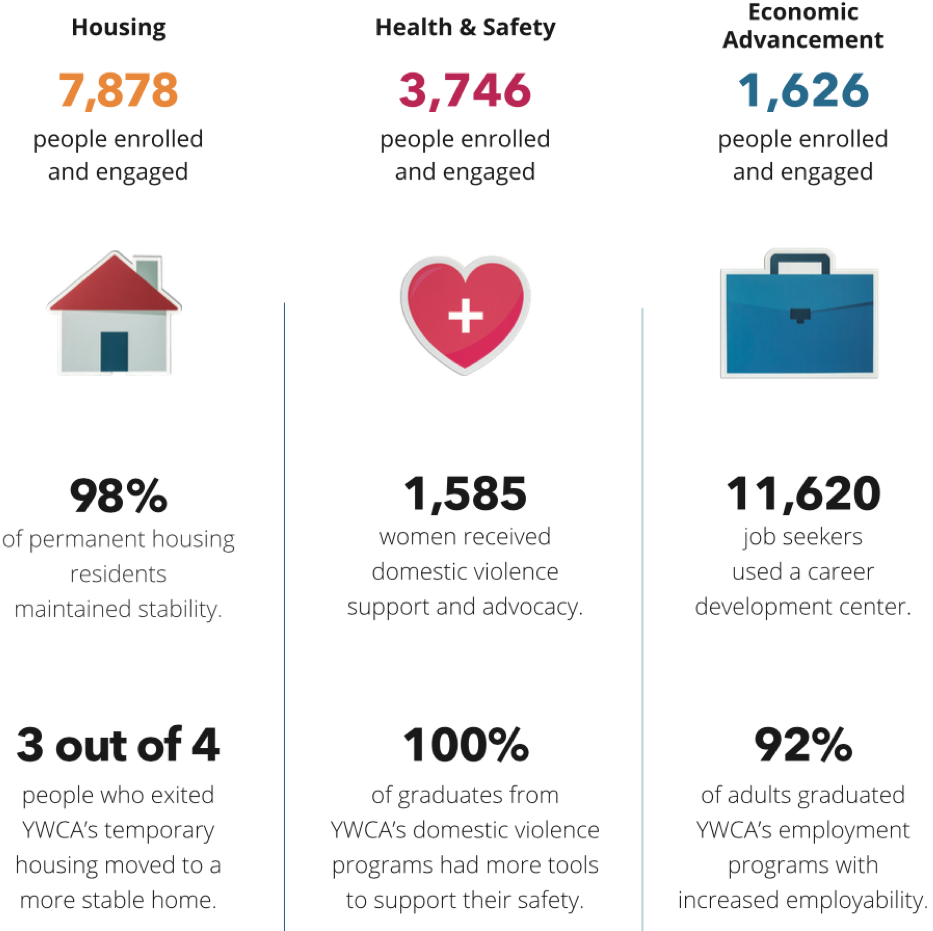 "YWCA takes a comprehensive approach to help women and families of color with wrap around services. It's a daily challenge to address inequity and advocate for change. The dedicated staff, supporters, and diverse partnerships make it possible."

- Korynne Wright, Board Alumni
Our Contributors
Thanks to our partners, we are making change and moving forward.
Contributors
Ballmer Philanthropy Group
The Sheri and Les Biller Familiy Foundation 
The Boeing Company
Estate of Joan E. Brown
City of Seattle
Department of Justice 
Department of Veterans Affairs
Estate of Gladys C. Hauge
Housing Authority of Snohomish County 
King County
King County Housing Authority
NAVOS
Pacific Hospital Preservation & Development Authority 
Port of Seattle
Puget Sound Educational Service District 
The Seattle Foundation
Seattle Housing Authority
Snohomish County
Starbucks Coffee Company
State of Washington
United Way of King County
U.S. Department of Housing and Urban Development
Workforce Development Council of Seattle King County
Anonymous (7)
City of Bellevue
City of Lynnwood
Country Doctor Community Health Centers
Everett Public Schools
The Biella Foundation
Fidelity Charitable Gift Fund
Lucy Helm
Virginia Mason
Microsoft Corporation
Jeannie & Bruce Nordstrom
Organization for Prostitution Survivors 
Premera Blue Cross
Public Hospital District No. 2 of Snohomish County (c/o Verdant Health Commission)
Schwab Charitable Fund
Seattle Jobs Initiative
Mary Snapp
United Way of Snohomish County
Workforce Central
Eve & Chap Alvord
American Online Giving Foundation
The Anderson Foundation
Bank of America
The Bank of America Charitable Foundation, Inc.
Bobbe & Jon Bridge
Sonya & Tom Campion/Campion Foundation
Children's Home Society of Washington
City of Auburn
Stephanie Ellis-Smith
EverTrust Foundation
Heritage Bank
HomeStreet Bank
Housing Authority of the City of Everett
The John C. & Karyl Kay Hughes Foundation
KeyBank
KeyBank Foundation
Pamela B. McCabe
Beth McCaw & Yahn Bernier 
Nancy Nordhoff
PACCAR Foundation
Judy Pigott
Regis Family Community Fund
Evelyne Rozner & Matt Griffin
Schultz Family Foundation
Seattle Times Fund for the Needy
Treeline Foundation
U.S. Bank Foundation
U.S. Bank
Wells Fargo
Wells Fargo Foundation
Anonymous (1)
Estate of Betty Lee Barden
The Bartell Drug Company
BECU
Ben Franklin Crafts & Frames
Annika Berman
Bill & Melinda Gates Foundation
Betty Bottler
Bread And Bone
Jim Bromley & Joan Hsiao
Capital One
Child Care Resources
The Chisholm Foundation
City of Federal Way
City of Kent
City of Kirkland
City of Redmond
City of Renton
Columbia Bank
Comcast
Comcast Foundation
Fran & Gerry Conley
Employment Security Department
Linda B. Glenicki
Mary Ann & Larry Heeren
Leslie Magid Higgins & Pete Higgins
Kalen & Sean Holmes
Kaiser Permanente
Janet W. Ketcham
King County Emergency Food and Shelter National Board Program 
Jay & Linda Lapin
Cathy & Joe Linn
Lynn Manley & Lex Lindsey
Charlotte Y. Martin Foundation
Moccasin Lake Foundation
Nintendo of America Inc.
Molly & Blake Nordstrom
Nordstrom, Inc.
Northwest Children's Foundation
OneFamily Foundation
Estate of W. Ann W.Pattullo
Marty & Sue Peterson
QFC, Inc.
Safeco Insurance Fund
Seattle Children's
Shelter America Group
Jan & Jim Sinegal
Sound Transit, Metro and Public Health
Kathy Surace-Smith & Brad Smith
TEW Foundation
Umpqua Bank
Vanguard Charitable
Anonymous (5)
Patricia Angell & Mark Hall
Antioch University
Banner Bank
Jean & Dave Barber
Lorraine Bardeen
Joanna & David Beitel
Capitol Hill Housing
Capitol Hill Housing Improvement Program
Carpe Diem Boutique
City of Burien
City of Covington
City of Everett
City of Tukwila
Comerica Charitable Trust
Maryann & Sten Crissey
Rose Marie David
Adjua Dupree
East West Bank
Susan & Lewis Edelheit
Elizabeth Giblin Designated Fund at the Seattle Foundation
Epiphany Parish of Seattle
The Everett Clinic Foundation
Colleen Ferris
Gabriel Cosmetics
Mimi Gardner Gates
GE Foundation
GLY Construction, Inc.
Richard Harris
Hazel Miller Foundation
Antonios Henry
Antoni E. Hopper
Pamela J. Hughes
International Association of Machinist and Aerospace Workers
Barbara Johns & Richard Hesik
Jonelle Johnson
Lorna P. Jordan
KING 5
Diane Langstraat
Leslie Fund, Inc.
Magnusson Klemencic Associates
The Keith & Mary Kay McCaw Family Foundation
Cherrill Mears
Molbak's Garden + Home
Harriett & John Morton
Sandra J. Moss
Patti & Gene Neuberger
Grace Nordhoff & Jonathan Beard
Mary Kay O'Neill
Opus Bank
Opus Community Foundation
Pacific Northwest Enterprise Risk Forum
G. R. Paulsen
Peoples Bank
Perkins Coie LLP
Petunia Foundation
Raikes Family Foundation
Sanjay Rajashekar
The Runstad Family Foundation
Tillie & Alfred Shemanski Foundation
Tillie & Alfred Shemanski Testamentary Trust
Sam & Sylvia Shiroyama
Solid Ground Washington
Denise Stiffarm & Marc Taylor
Kathryn & Robert Strong
Swedish Medical Center
Union Bank
United HealthCare
David & Shirley Urdal
USI (Formerly Kibble & Prentice)
UW Foster School of Business
Vulcan Inc.
Leslie Wagner & Ed Curtis 
Walsh Construction Co./WA
Washington Bankers Association
Ty & Patty Wernet
Maria Chavez Wilcox & Jeffrey R. Wilcox
Kristine & Patrick Wilson
Gina Woods
Anonymous (3)
We're truly grateful for all of those who support YWCA's mission, including the list of individuals, corporations, foundations, and public funders that made contributions of $5,000 and above in 2017. Your partnership and generosity make a huge impact on the lives of women and families in our community.
To view the list of contributors, please click on the plus sign above.
While we strive to ensure this list is accurate, please contact our Chief Philanthropy Officer, Migee Han, at mhan@ywcaworks.org or 206.490.4399 if you notice any error or omission.
3,000+
Donors who made a gift for YWCA's women and families in 2017
29,258
total hours for YWCA in 2017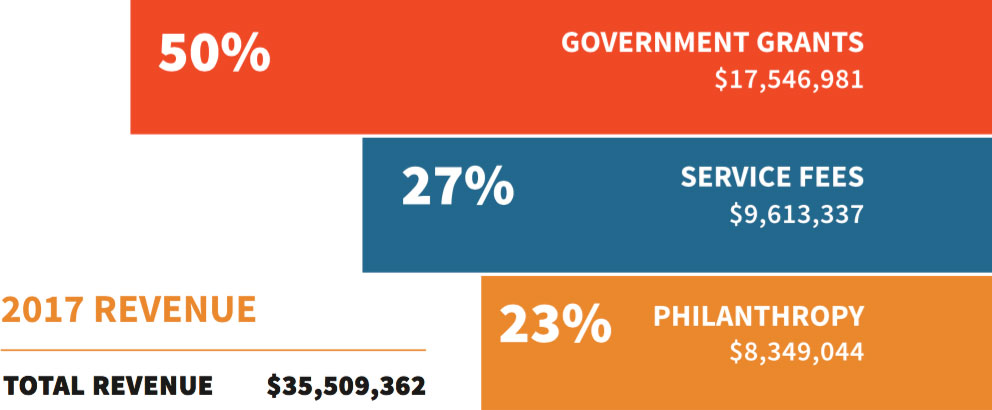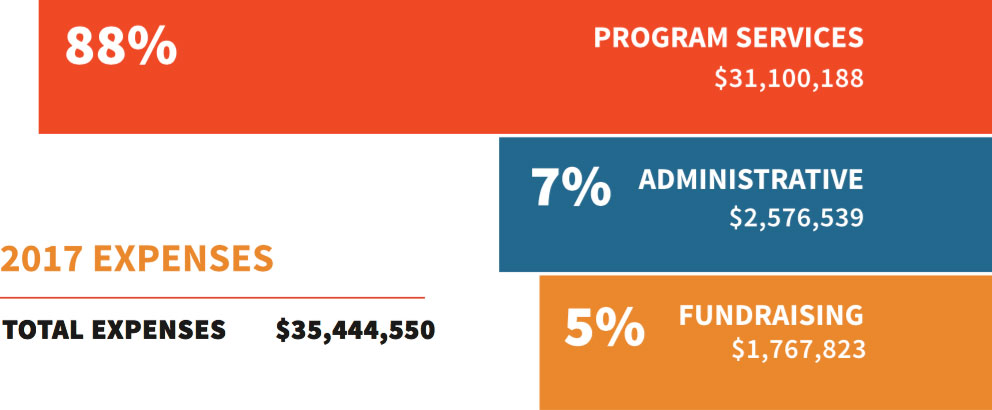 These graphs do not reflect depreciation, other non-cash transactions, endowment gifts, or revenue and expenses from major capital projects. Visit our financials page for our most recent audit and IRS Form 990.
Board of Directors
YWCA would like to express our deepest gratitude and recognize our board of directors dedicated to making change and moving forward.
Jean Bartell Barber
The Bartell Drug Company
Shannon Bell
JP Morgan Chase & Co
Bobbe Bridge
Center for Children & Youth Justice
Jim Bromley
Community Volunteer
Sonya Campion
The Campion Advocacy Fund
Paul Chiles
Chiles & Company
Robyn N. Corr (Immediate Past Chair)
Nintendo of America Inc.
Maryann Crissey
Banner Bank
Pam Daniels
International Court Consultant
Stephanie Ellis-Smith
Phila Engaged Giving
Mary Anne Eng*
Community Volunteer
Katharine Fitzgerald
Seattle Children's (Retired)
Rafael Grijalva**
Amazon
Pamela J. Harkins
Community Volunteer
Bavan M. Holloway
The Boeing Company
Kalen Holmes*
Community Volunteer
Douglass (Doug) L. Jackson
University of Washington School of Dentistry
Jonelle M.C. Johnson
Nordstrom
Leslie D. Jones
Sound Transit
Amy Kosterlitz
Coach, Consultant & Facilitator
Sandra Madrid, Ph.D.
University of Washington (Retired)
Susan Mask
Trillium360 Consulting
Betsy Moseley*
International Media Partners
Joli Mosier
MosierMcCann
Gloria Nemechek**
Key Bank
Mary Kay O'Neill, MD, MBA
Mercer Consulting
Heidi Orr
Lane Powell
Sue Peterson
Cornerstone Advisors
Ann Rickett (Treasurer/VC Finance)
Community Volunteer
Melissa Robertson**
Seattle Mariners
Richard Romero
Seattle Metropolitan Credit Union
Barbara Rosen
BR Consulting
Lisa E. Schaures (Chair Elect)
Schwabe Williamson & Wyatt
Kathy Surace-Smith*
NanoString Technologies
Mary Snapp (Board Chair)
Microsoft Corporation
Akila Somasegar
Girl Up
Denise Stiffarm (Secretary)
Paci ca Law Group
Alejandro (Alex) C. Torres
Starbucks Coffee Company
Kris Wilson
Perkins Coie
Gina Woods*
Starbucks
Jessie Wooley-Wilson*
DreamBox Learning, Inc.
* Retired as of Spring 2018    ** New as of Summer 2018