Established in 1894, YWCA Seattle | King | Snohomish is dedicated to eliminating racism, empowering women, and promoting peace, justice, freedom, and dignity for all. We envision a society where all people can thrive and all communities are valued, respected, and self-directed.
From South King County to Everett, and from Seattle to the Eastside, YWCA welcomes a diverse range of employees who want to make a difference by:
Building stable homes and economic advancement.
Reducing violence against women and improving health.
Increasing racial equity and social justice for all people.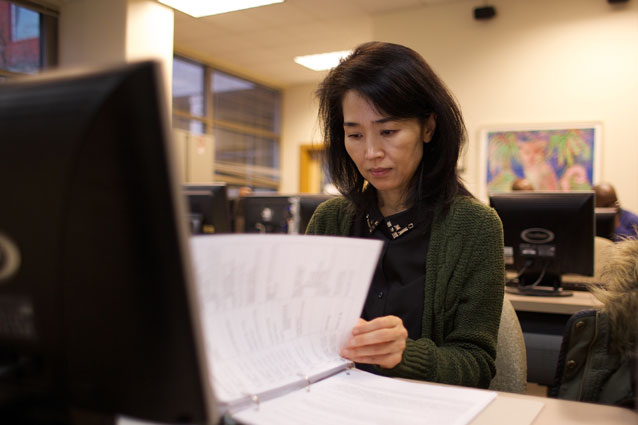 Search for Careers
Browse our available career listings, and apply for positions, through our online application portal.
Salary and Benefits
YWCA's compensation program leads that of many other nonprofits in this area. We've got great employee benefits, including:
Generous paid time off, including three weeks of vacation accrued in the first year of employment, 12 days of sick leave, and up to 10 holidays each year (part-time PTO is pro-rated).
Medical coverage with a portion of the premium paid by YWCA. Dependent coverage (including domestic partner) is available via pre-tax payroll deduction. 
Optional dental, long-term disability, and vision insurances as well as medical, dependent care, and parking/transit flexible spending accounts.
Medical benefits are available to regular staff members working at least 30 hours per week.
At the time of hire, employees may choose to voluntarily enroll in the Fidelity 403b Plan. Typically after two years of employment, employees are eligible to participate in the YWCA Retirement Fund.
Performance Standards
Because we are mission-driven, client-centered, an excellent employer, and a committed community partner, all our employees are expected to uphold the following core values and performance standards:
Race & Social Justice Advocacy: Collectively and individually, we work to eliminate the effects of racism, sexism, homophobia, ageism, and other oppressions and help our clients achieve equitable outcomes – outcomes that prioritize those with multiple barriers – in the areas we serve.
Customer Service: We treat our customers with culturally competent courtesy and respect, and react with urgency and sensitivity to their important concerns.
Teamwork: We value individual excellence in the achievement of organizational goals and work effectively as a team for the benefit of YWCA and our stakeholders. We understand that cultural competency is required when evaluating effective work and teamwork. We value the voices of our people of color, immigrant and refugee, LGBTQ, and other marginalized staff as positive, effective, and relational. We recognize that internalized superiority or inferiority can play a role in how staff members interact on teams. We work to understand barriers that team members may be facing and support those individuals who are facing multiple barriers.
Communication: We communicate openly, honestly, and accurately with our internal and external stakeholders. We listen respectfully, solicit feedback, and are open to the suggestions and solutions of others. We understand that internalized oppressions play a role in how and what we communicate as well as what we gatekeep. We work to be accountable gatekeepers, acknowledging our superiority and/or inferiority while communicating, and we work to create a flat structure where power is not front and center in the communication that we engage in.
Integrity: We are ethical and trustworthy in our business practices and interactions with each other.
Accountability: We are accountable to our team members, clients, and the communities we serve and seek to continuously improve the quality of our services.  We are transparent in sharing information with stakeholders and the public.
YWCA is an Equal Opportunity Employer and is pledged to carry out the spirit and letter of applicable federal, state, and local laws and regulations prohibiting unlawful discrimination in employment on the basis of age, ancestry, color, creed, gender, marital status, national origin, political ideology, race, religion, sexual orientation, veteran status, or the presence of a physical, mental, or sensory disability. Auxiliary aids and services are available upon request to individuals with disabilities. Washington Telecommunications Relay Service (800) 833-6384 or 7-1-1.
Questions? Contact us!
Phone: (206) 461-3859 
Email: hr@ywcaworks.org