YWCA's Stand Against Racism is an annual event to acknowledge our commitment to combating racism and a reminder of the work that still needs to be done. Expand your understanding of the lasting impacts of racism and the evolution of anti-racism with help from these resources.
What is Anti-Racism, and how to be Anti-Racist

Resources from YWCA:

Video Resources:

Podcasts:
Join the conversation and take collective action for equity by registering four our Stand Against Racism Event.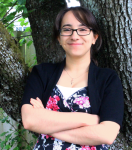 Ana Rodriguez-Knutsen is the Content Specialist for YWCA's Marketing & Editorial team. From fiction writing to advocacy work, Ana works with an intersectional mindset to uplift and amplify the voices of underrepresented communities.
We share the stories of our program participants, programs, and staff, as well as news about the agency and what's happening in our King and Snohomish community.
Featured Image