Presented by YWCA's People of Color Executive Council, our 10th Annual Stand Against Racism event went virtual with hundreds of guests joining us in the fight against discrimination.
Over 600 of you joined us at our first ever virtual Stand Against Racism event on April 30, featuring our amazing keynote speaker, Ijeoma Oluo.
As we're all figuring out what a post-COVID world looks like, we're still reflecting on Ijeoma's powerful words:
"We all have power in our systems. We do not have equal power. We do not have it all in the same places, but we have power and we must learn to engage that power now. Now, while we have the opportunity to build something new. Find your power in your school board, your PTA. Find it in your workplace, in your meetings. Find it with your vote. Find it with you church, in your community. Find it with your dollars. You find areas of action by listening."
If you didn't get a chance to join us, you can watch a full recording of the event below.
For all who joined us, thank you again for taking the time to join in our fight to stop racism in all aspects of our lives, from the systems that we're brought up in to the daily encounters our BIPOC neighbors and community members face in workplaces, schools, and even when seeking medical care.
---
Make sure to join us next month on June 10 at our inaugural (and FREE) Bertha Pitts Campbell Equity Awards, honoring local individuals and organizations advancing racial and gender equity in our community. Our 2021 honorees are the Seattle Storm (Business Champion), Debbie Bird (Community Champion), and Kavya Varkey (Rising Champion).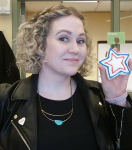 Annalee Schafranek is the Marketing & Editorial Director at YWCA. She contributes agency news, press releases, and media coverage to the website. Annalee's educational and professional experience has always focused on the place where gender equity and media meet.
We share the stories of our program participants, programs, and staff, as well as news about the agency and what's happening in our King and Snohomish community.
Featured Image