June is Pride Month and to celebrate the occasion (not to mention the 50th anniversary of the Stonewall Uprisings), we've put together some of the articles that have caught our eye lately. Check out the links below and make sure you let us know what you're reading!
What are YOU reading? Let us know on social media. Tag us @ywcaworks on Twitter and Facebook.
Happy Pride, all!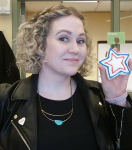 Annalee Schafranek is the Marketing & Editorial Director at YWCA. She contributes agency news, press releases, and media coverage to the website. Annalee's educational and professional experience has always focused on the place where gender equity and media meet.
We share the stories of our program participants, programs, and staff, as well as news about the agency and what's happening in our King and Snohomish community.
Featured Image