Summary
A conversation about how the private and non-profit sectors can work together, March 4 from 5:30–6:30 PM
Featured Image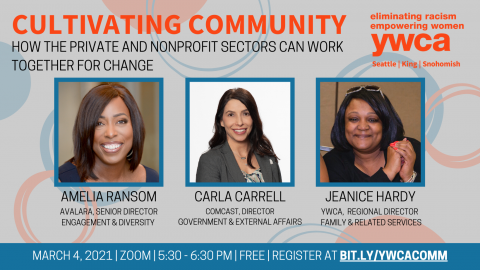 Please join YWCA Seattle I King I Snohomish and guests Amelia Ransom (YWCA Board Member, Alavara), Carla Carrell (YWCA Supporter, Comcast), and Jeanice Hardy (YWCA Regional Director of Family and Related Services) for a lively conversation about how the private and non-profit sectors can work together in 2021 and beyond.
The global health pandemic has changed so much, from volunteering to events to how we work from day to day. While many aspects of corporate engagement have gone virtual, that doesn't mean companies can't partner with YWCA in our mission to eliminate racism and empower women! Moderated by Sarah Hassen (YWCA, Associate Director - Major Gifts), we will host a discussion about creative ways that companies can engage with our work virtually, how members of the corporate sphere can advocate within their communities for racial and gender equity, and how to create tangible change in the coming years.
 
Events
Find out how to get started as a YWCA volunteer.
Event Node's Related Program