CANCELLED: 2020 Everett Inspire Luncheon
CANCELLED: 2020 Everett Inspire Luncheon
Summary
Important: Everett Inspire Luncheon cancelled
YWCA has been monitoring and responding to developments of the novel coronavirus (COVID-19), and working with partners across the region to ensure the well-being of our program participants, staff, and supporters. 
As a result, we have made the difficult decision to cancel the 2020 Everett Inspire Luncheon on April 16.
YWCA prides itself on delivering critical services for nearly 11,000 women, men, and children each year, and nothing is more important than the well-being of our community. We will continue to provide safety for people experiencing homelessness, who are more vulnerable to COVID-19, and protect the economic security of low-income workers, who are threatened by cuts to their income or lack access to paid sick leave.
Most of this work cannot be done remotely, and all YWCA locations and direct service programs currently remain open. We have adopted rigorous sanitizing procedures, and will continue to follow the recommendations of our regional health authorities.
What You Can Do
If you've already registered as a guest or table captain in Everett:
Attend the 2020 Seattle Inspire Luncheon – all tickets will be honored at our event on May 14 at the Westin Seattle, with keynote speaker Valerie Jarrett.
Turn your ticket into a donation – if you're unable to join us in Seattle, your ticket can be converted to a tax-deductible contribution to YWCA.
Request a refund – we are happy to provide a full refund for anyone who has already purchased an Everett ticket or table.
Contact us for details – please email AnnaJoy Gillis with questions about your tickets to the Everett Inspire Luncheon (agillis@ywcaworks.org). 
Events
Image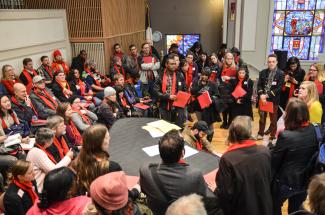 Join YWCA at the largest annual gathering of people working to end homelessness in Washington.
Learn how to get started as a YWCA volunteer.
Learn how to get started as a YWCA volunteer.
Other Location
Edward D. Hansen Conference Center
2000 Hewitt Avenue
Everett, WA 98201
United States
Event Node's Related Program