How can we build better communities where everyone is welcome and safe? We sat down with safe streets advocate and bus enthusiast Jazmine Smith to talk about how cities are designed in ways that are hostile to Black women.
Jazmine Smith first became interested in how cities work growing up in Lynnwood and taking the bus into Seattle to visit her cousins. Jazmine recalled how much more difficult it was to get around without a car on Snohomish County's Community Transit at that time. Today, Jazmine works as a Special Education Assistant with Seattle Public Schools, and for her first few years working there was the only one among her coworkers who took the bus rather than driving.
She credits social media with helping her find other "urbanists," or people interested in improving cities, after she created some videos about King County Metro buses on the social media platform TikTok. She was first inspired to engage in real life advocacy after witnessing the viral video of a Seattle woman who stood in the bus lane waving out all the cars blocking the bus from reaching the stop. Jazmine and a bunch of her friends went and protested at the same spot days later, and she says the city has now painted that bus lane bright red with signage marking it as car-free.
White Planners, Black Streets
Urban planning as a profession, and the kinds of advocacy Jazmine does for safer streets, isn't very racially diverse. Jazmine says that safe streets conversations and policy tend to have a "white-centric orientation and emphasis, leaving out what safe streets mean for our Black and other marginalized communities."
"It's a very white field. I think a lot of this work has been done historically by marginalized communities but they don't have the platform and might not be connected to the online community," Jazmine said. "I guess I had been doing urbanist stuff before I knew about it."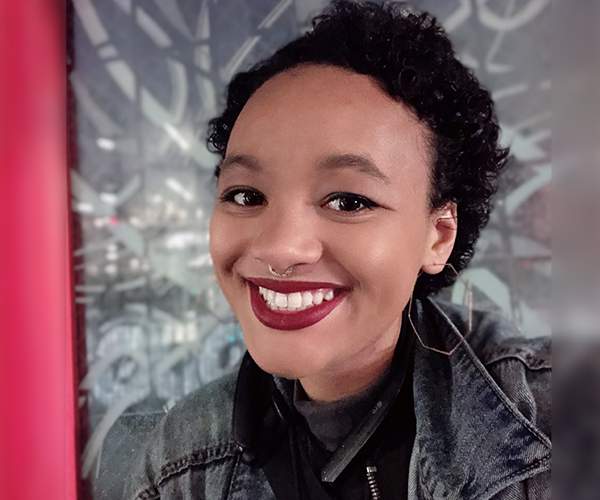 The racial disparity between who is paid to design urban spaces and the people who inhabit them has been the focus of Canadian placemaker Jay Pitter, who recently published "A Call to Courage," calling on her white urban planning colleagues to learn more about reversing anti-Black racism in the ways cities are built. 
Pitter has also been featured on a number of panels, such as the Un-Urbanist Assembly, which brought together Black urban planners, architects, and urbanists to discuss how police violence, neighborhood surveillance, and gentrification have made cities inhospitable places for Black Americans and Canadians.
"Urban design is not neutral, it either perpetuates or reduces inequities in cities." -Jay Pitter 
Another barrier that keeps Black folks from being involved in some of the major decisions on cities is how much time is involved in the committees and city meetings. Attending one of these meetings is unpaid labor, and Jazmine says it's "so easy to get disenfranchised and feel like you're not being heard." Her great-grandfather, Powell Barnett, was involved in the Leschi Improvement Council. "All of these ways that he was involved in community, and I know he wasn't paid for all his time and effort."
She says there is a growing awareness of the racial and gender inequities within the urbanist scene in Seattle though. At the first meeting she attended hosted by local publication The Urbanist, she recalled the organizers pausing a Q&A session to point out  that "only white dudes have spoken, can we make space for someone who's not white or not a dude?" 
Who Gets Healthy streets?
At the beginning of the COVID-19 pandemic, the City of Seattle opened up 20 miles of streets for people to walk and bike on without through-traffic from cars. These "Stay Healthy Streets" have become very popular with residents, but are limited to areas outside of Seattle's most populated neighborhoods. This choice to prioritize the healthy streets of white neighborhoods over diverse urban villages is in line with countless other decisions that contribute to environmental racism across our region.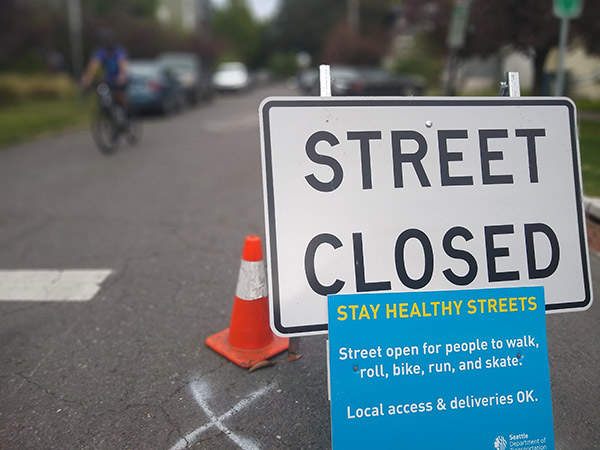 Jazmine says she's ridden her bike through some of these streets, and is happy that several of them are in Seattle's historically Black neighborhoods. "I think it's great that they have a lot of Stay Healthy Streets in the Central District and Mount Baker." She also said that she appreciates that policing isn't included in Seattle's version of Stay Healthy Streets, as they were in New York City. There, as in Seattle, there were major concerns about these streets becoming an extra opportunity for police to racially profile Black and brown people using them. For Seattle, Jazmine says it's been more about changing norms of how the street is used, and a kind of honor system for enforcement. 
She does note that while there are Stay Healthy Streets in some diverse neighborhoods, there is only one small stretch in any of the urban villages of Seattle. This means that the parts of the city with the largest number of Black folks are left without safe ways to get outside during COVID, something Jazmine would like to see changed with more Stay Healthy Streets.
Better Buses for Black Women
When asked what her hopes were for her favorite buses moving forward, Jazmine said, "I was really hoping that one by-product of COVID would be permanent fare-free transit." 
She also pointed out that many of the demands of Black Lives Matter protesters are centered around reducing the interactions between police and Black people altogether. In line with those protests, Jazmine wants area transit agencies like King County Metro to decriminalize transit and remove fare enforcement and policing from their vehicles. This is already beginning to happen in Portland, where transit agency TriMet recently committed to removing police from enforcement. "I hope we can go in that direction to better serve Black people" said Jazmine. We've written before about how fare enforcement on trains and buses in our region has disproportionately targeted Black riders and people experiencing homelessness.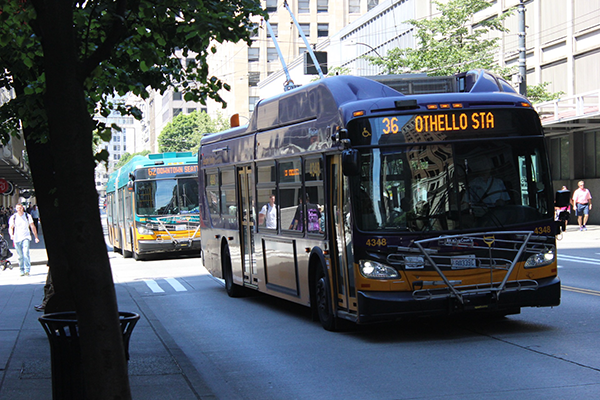 When thinking about other ways that transit agencies could make riding the bus more welcoming for Black women, Jazmine said, "I would love to see more public bathrooms, that would serve women and everyone."
Having more public restrooms, particularly around public transit, would decriminalize Black people occupying public spaces, Jazmine said. Right now, people are dependent on bars or restaurants to use the bathroom, and those establishments can be racist in who they refuse to allow in. With public bathrooms, everyone would have access to a human necessity regardless of their race.
A chance for Change?
A common way that anti-Black racism is perpetuated in cities is through laws against things like jaywalking. Jaywalking citations are overwhelmingly given to Black people by police, for a "crime" that was invented by car manufacturers to absolve them of any legal liability when a driver hit a pedestrian. Abolishing jaywalking laws would give police one less excuse to arrest or harangue Black people for being in public.
In Seattle, City Councilmembers Lorena Gonzalez and Andrew Lewis have both expressed interest in abolishing the jaywalking law in the city. You can help make this change today by contacting your City Councilmembers to demand they abolish jaywalking.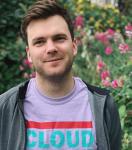 Eric Bronson is the Digital Advocacy and Engagement Manager at YWCA. He manages the Firesteel blog in addition to its social media streams and action initiatives. A graduate of Oberlin College, Eric focuses on the intersection of race and gender within the American political economy.
We tell the stories of those with lived experiences of racism and sexism and invite supporters to take concrete actions to correct the root causes of disparity in our communities.
Featured Image