Hours
Sunday
Closed
Monday
8:30 am-5:00 pm
Tuesday
8:30 am-5:00 pm
Wednesday
8:30 am-5:00 pm
Thursday
8:30 am-5:00 pm
Friday
8:30 am-5:00 pm
Saturday
Closed
Survivors FIRST (Facilitating Information and Resources for Survivors of Trauma) is a program in partnership between YWCA and the King County Prosecuting Attorney to directly connect survivor-defendants to intervention services without criminal charges.
Created in 2019, YWCA's Survivors FIRST program supports the needs of survivor-defendants, victims of abuse who have been accused of a domestic violence-related crime. Survivors FIRST focuses on underserved communities to identify and address the unmet needs of criminalized survivors.  
By diverting survivors of color to culturally appropriate domestic violence and intimate partner violence services, this program helps reduces the racial disproportionality of survivors of gender-based violence in the criminal legal system. 
Services YWCA provides to survivor-defendants: 
Trauma-informed advocacy 
Legal advocacy 
Housing resources 
Community resources 
Empowerment support group 
Referrals for job readiness and financial education 
Learn more about the background of how Survivors FIRST started and how YWCA works with the King County Prosecuting Attorney's Office by watching the video below:
Black and African American survivors face many barriers to finding safety, justice, and accessing supportive domestic violence services. 
Black and African American women experience intimate partner violence at a 35% higher rate than white women, and about 2.7 times the rate of women of other races.  
Intimate partner violence is the leading cause of death among Black and African American women ages 15 to 45. 
By addressing racial disproportionality of survivors of gender-based violence in the criminal justice system, we are supporting those furthest from services and opportunity: women of color, especially Black and African American women. 
Challenges faced by survivor-defendants:  
They often have no one to advocate for them. 
They can potentially lose financial stability, their housing, their job, or their children. 
They may not be aware of resources available in the community. 
They may not have a safe place to go upon their release from police custody. 
They may plead guilty in order to get out of jail as quickly as possible, without fully understanding the impact. 
Eligibility & Enrollment
Legally recognized as a survivor of domestic, sexual, or gender-based violence. 
Has been arrested and is now facing criminal changes as a result of victimization. 
Services Offered
Legal Services
DV Advocacy
Counseling
Related Events
Learn how to get started as a YWCA volunteer.
Henry M. Jackson Conference Center @ Everett Community College
Image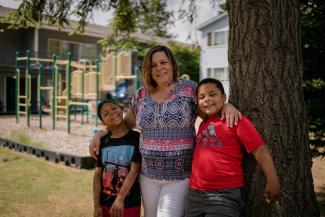 Join us for a community celebration of YWCA's Snohomish County programs, staff, and supporters!