GirlsFirst encourages leadership, instills confidence, develops skills, and provides opportunities to young womxn of color.
The GirlsFirst site is under construction in our transition to GirlsFirst2STEM. GirlsFirst2STEM is a developing program for Black womxn ages 17-22 who are committed to STEM degrees and career paths. For more information, please contact Tolu Taiwo (GirlsFirst Manager, ttaiwo@ywcaworks.org, 206-823-4054). Thank you!
---
Our vision is that young womxn of color receive the support, inspiration, opportunities, and skills to realize their full potential and to lead meaningful lives. Thus, our free, year-round program includes:
After-school programs centered around project-based learning
Tutoring and homework help
Summer and spring break camps
Weekend field trips
Service learning opportunities
Paid summer internships at GirlsFirst partner companies
Our curriculum incorporates community building, social-emotional learning, and STEAM (science, technology, engineering, arts/design, and mathematics) activities. Our program upholds the strength of people, families, and communities of color and believe those strengths should be cherished and celebrated. Through thoughtful curriculum creation and implementation, GirlsFirst is dedicated to creating programming that is strengths-based and racially equitable.
GirlsFirst participants:
Experience personal self-discovery, growth, and positive identity development
Have access to numerous academic and professional opportunities
Build a strong network of support that follows them throughout high school
Develop skills to help them navigate and succeed in various systems while maintaining their ethnic, cultural, and racial pride
Want to Join?
GirlsFirst is currently offered after-school at four Seattle high schools:
Rainier Beach High School: Mondays & Wednesdays (Room 111)
Franklin High School: Mondays & Wednesdays (Room 105)
Garfield High School: Tuesdays & Thursdays (Room 232)
Cleveland High School: Tuesdays & Thursdays (Room 1212)
Download our application on the right-hand side or just come visit!
Support this program
Email us at girlsfirstinfo@ywcaworks.org to learn how to donate and/or volunteer.
Eligibility & Enrollment
YWCA GirlsFirst is open to female-identified and gender non-conforming students of color. Students with the desire and potential for leadership and excellence are strongly encouraged to apply.
Related Events
Interested in learning how you can advocate for women and families in our community? Join GenRising as we explore YWCA's legislative priorities for 2020.
Image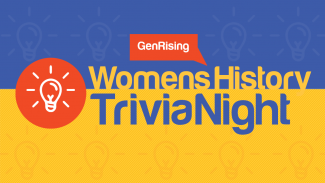 Join GenRising for a family friendly trivia night celebrating Women's History Month! The Lounge by AT&T on Capitol Hill is hosting us for an evening full of fun and interesting facts about women who have made an impact locally and globally