Widening the Lens: Intimate Partner Violence and Black Women
Widening the Lens: Intimate Partner Violence and Black Women
Summary
A presentation for community partners and service providers about the historic traumas and systemic barriers faced by Black women survivors.
Featured Image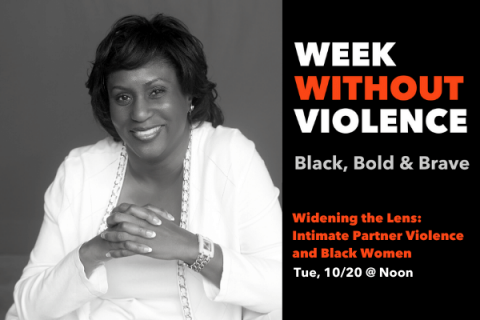 At YWCA, we know that not all violence is acknowledged or responded to equally, and that some victims go unrecognized altogether. That's why we work every day to end gender-based violence, including domestic violence, sexual assault, and trafficking.
Join us for a presentation by Dr. Carolyn West, domestic violence expert, author, and filmmaker, to learn about the ways historic trauma and oppression compounds the impact of gender-based violence for Black women and communities.
This event is part of YWCA's "Week Without Violence: Black, Bold & Brave," from October 18 - 24. 
In this timely webinar, Dr. West will help attendees learn how historical trauma and oppression has shaped relationships between advocates and the Black community, and recognize how current day institutions, systems, and biases create obstacles for Black survivors in need of help.
Dr. Carolyn West is professor of clinical psychology at the University of Washington. Dr. West has authored more than 70 publications and is editor/contributor of Violence in the Lives of Black Women: Battered, Black, and Blue. She has also written extensively on racism in sexualized media and in 2018 produced the documentary Let Me Tell Ya'll 'Bout Black Chicks: Images of Black Women in Pornography.
Dr. West has worked as an expert witness in DV/SA cases, delivered keynote addresses, conducted workshops, and created innovative training materials to educate and equip professionals with the skills to provide culturally-sensitive services to survivors of color.
Events
"From Declarations to Change: Addressing Racism as a Public Health Crisis" is the theme of YWCA's nationwide campaign to Stand Against Racism (April 22 - 25, 2021)
Event Node's Related Program