With MLK Day behind us and Black History and Women's History Months ahead, we're pulling together a list of our favorite reads (and a couple of listens!) about issues of equity in our community and beyond.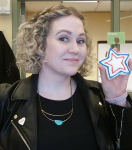 Annalee Schafranek is the Marketing & Editorial Director at YWCA. She contributes agency news, press releases, and media coverage to the website. Annalee's educational and professional experience has always focused on the place where gender equity and media meet.
We share the stories of our program participants, programs, and staff, as well as news about the agency and what's happening in our King and Snohomish community.
Featured Image