It's the time of year again when we invite our community to be a part of contributing to the 2021 Adopt-A-Family, our annual holiday gift drive. Check out these simple steps on how to get involved safely during COVID-19.
The holidays are a special time of year when we come together as friends and family to express appreciation for the people that are dear to us. While the COVID-19 pandemic has changed the ways we gather for the holidays, it doesn't change the deep desire to connect, give back, and celebrate.
For community members living in poverty, the holidays can be a difficult time. Consider the emotional and financial stress the holidays can sometimes represent combined with a challenging year that has disproportionately impacted BIPOC communities and families.
This giving season, YWCA is asking you to support us by adopting a family for the holidays. See the easy steps below to get started!
2021 ADOPT-A-FAMILY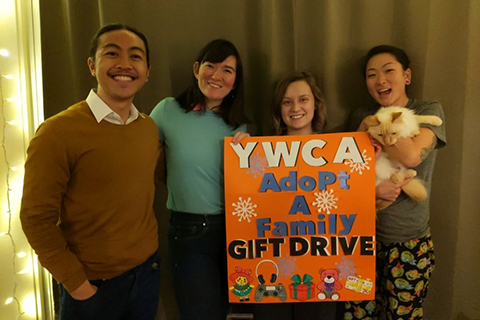 For Adopt-A-Family, we are requesting the following:
A $100 gift card for groceries for the head of the household.
Two $50 gift cards for each child to the two stores of their choice.
Please determine the size of the family you would like to adopt, and then email adopt-a-family@ywcaworks.org to sign up! We will then add you to our list and match you to a family. Depending on the size of family requested, it could be a day or a few weeks.
Once matched, you'll receive a family information sheet with names, ages, interests, and which stores they've chosen.
We will be accepting gift card drop offs at our Phillis Wheatley Branch (2820 East Cherry Street, Seattle, WA 98122) from 8 a.m. to 6 p.m. on the following dates:
Friday, December 3 
Thursday, December 9
Friday, December 10
If you're unable to make it on either of those dates, please mail the gift card to our Phillis Wheatley Branch (2820 East Cherry Street, Seattle, WA 98122) and address the envelope to the attention of Jeanice Hardy. Please have the gift card postmarked by December 8 – we want to allow plenty of time for our families to purchase gifts for the holidays.
---
Additional info
Matching funds from your employer are welcomed.
Just submit the matching form from your employer and list "YWCA Adopt-a-Family" as the program to the following address: YWCA, Attn: Fund Development, 1118 5th Ave, Seattle WA  98101. 
 
YWCA's tax I.D. number.
Our tax ID is #91-0482890; this may be required on your employer matching gift form.
 
These gifts can be tax deductible.
You may choose to include these gifts with your itemized deductions. If requested, we will provide a tax receipt when you deliver the gifts.
Thank you for supporting YWCA and happy holidays!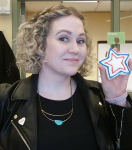 Annalee Schafranek is the Marketing & Editorial Director at YWCA. She contributes agency news, press releases, and media coverage to the website. Annalee's educational and professional experience has always focused on the place where gender equity and media meet.
We share the stories of our program participants, programs, and staff, as well as news about the agency and what's happening in our King and Snohomish community.
Featured Image