May is Asian American and Pacific Islander (AAPI) Heritage Month. This is a time to recognize the contributions of AAPI Americans to the culture of the United States and to honor their achievements and invaluable place in the history of our nation.
There is no doubt that those in the AAPI community have experienced discrimination and violence, particularly Asian American women and elders, both historically and since the beginning of the COVID-19 pandemic. Growing awareness of this racism is important, but part of this education involves celebrating and elevating AAPI stories of fostering roots in the face of bigotry and honoring culture above bias.
Here is a sampling of pieces, some written by and some written about (and some both) AAPI women navigating a culture that is ever-changing.
---
Here is a list of ways that you can support the AAPI community. 
Who in the AAPI community inspires you? Help spread the word by sharing with us on social media by tagging @ywcaworks on Twitter and Facebook and @ywca_sks on Instagram.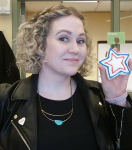 Annalee Schafranek is the Marketing & Editorial Director at YWCA. She contributes agency news, press releases, and media coverage to the website. Annalee's educational and professional experience has always focused on the place where gender equity and media meet.
We share the stories of our program participants, programs, and staff, as well as news about the agency and what's happening in our King and Snohomish community.
Featured Image