YWCA utilizes hundreds of volunteers each year. Some come for one-time service, but many are here for the long haul. Volunteers have the power to affect great change through acts big and small. As we approach National Volunteer Week, we want to honor a few volunteers whose work literally transforms lives.
Volunteers are the backbone of many organizations. When a lack of funding won't allow for more staff or program necessities it is often volunteers who step in and fill the gaps. Volunteers enable nonprofits like ours to provide more, and often higher quality services to their communities. They bring a wealth of diversity and experience to an organization and are a highly valuable asset. For Volunteer Appreciation Week, we'd like to highlight a few of our exceptional YWCA volunteers.
Housing Help - Ann & Shana
When a unit opens at one of our Seattle housing facilities, it is cleaned in preparation for a new tenant and left with a few items of furniture. Many of the families who move in are coming out of homelessness or alternative living situations and don't have furnishings like sheets, towels, and dishes. Typically, these families do not have extra money to obtain basic living necessities. Enter volunteers Ann Beck and Shana Perrina.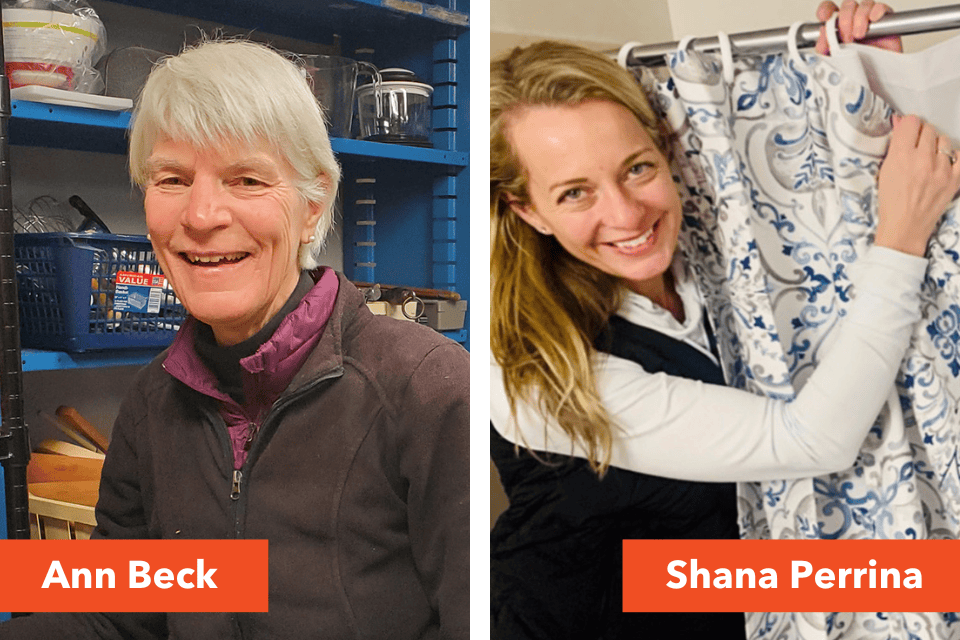 When these ladies get the call that a unit is vacant, they set to work getting everything that is needed to turn the space into a move-in ready home. When obtaining items, they don't forget the details — throw pillows, rugs, wall art, and even stuffed animals for the kids adorn each unit. When tenants go from living without to having a fully stocked apartment, the results can be life changing.
Shana, who started volunteering with YWCA in 2015, explains the different needs they meet, including bedding, fully stocked bathrooms, and kitchens. "We want [tenants] to have everything they would need to have a smooth transition into their next chapter. We provide not just the necessities, but also the extras — from a tool kit to a first aid kit, we try to fill an apartment with everything they should need to feel comfortable in their new home."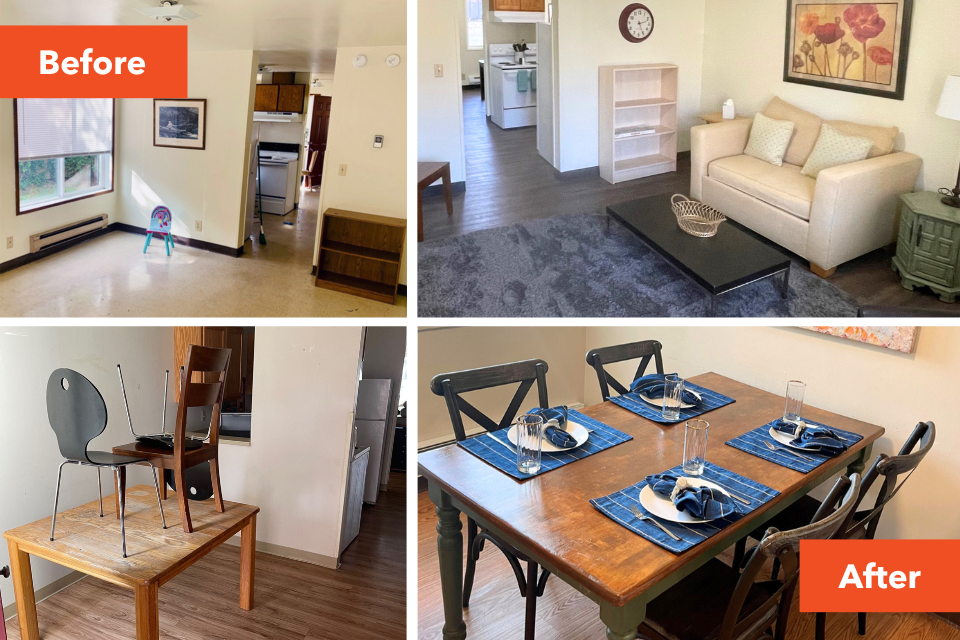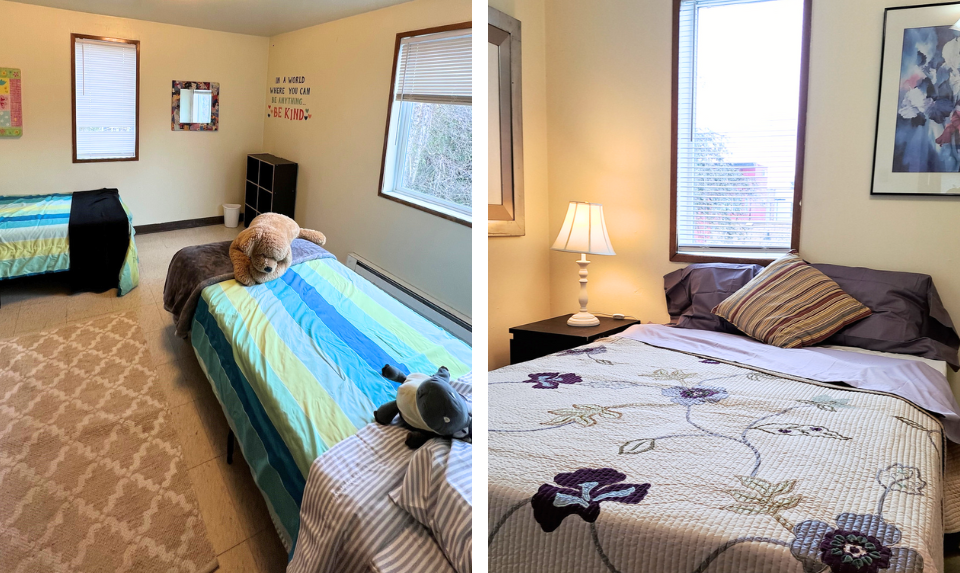 For Ann, putting units together turn these apartments into "a place a family can move into and immediately feel as if they [are] in a home." She began volunteering over a decade ago when she learned of volunteer opportunities through a partnership between YWCA and her church.
In addition to the many hours it takes to source, pick up, clean, and fill a vacant unit, Shana also regularly volunteers in our food bank. There she helps repack bulk food, pack bags, and helps get everything ready for delivery day. The Central Area food bank currently serves over 300 families each week. Delivery volunteers pick up and distribute bags of food to program sites and even participants directly, who are often lacking transportation to get food. Staff and volunteers also assist neighborhood folks.
The Working Wardrobe - Whitney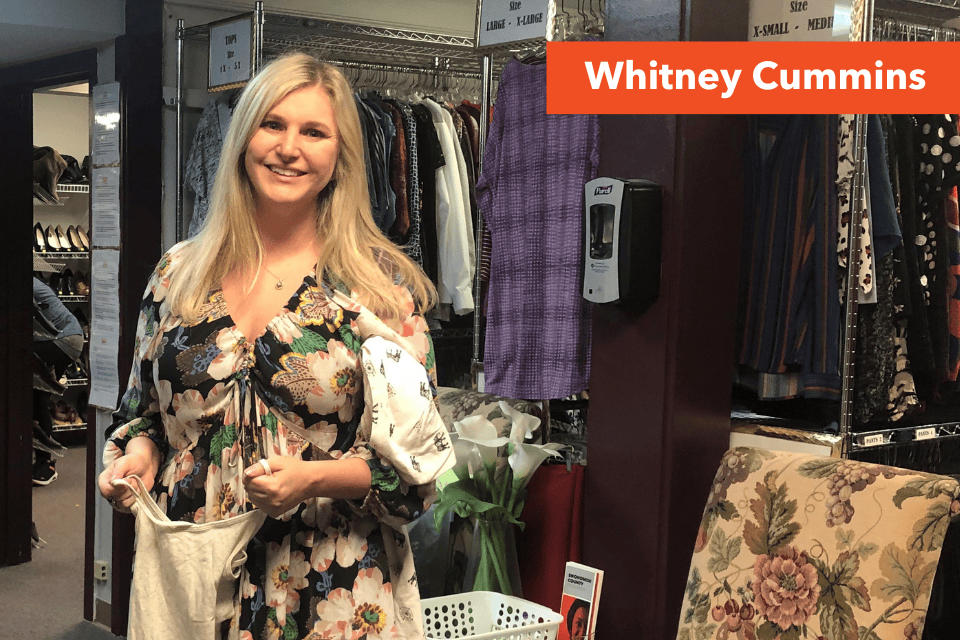 Whitney Cummins has been volunteering at the Everett Working Wardrobe for six years. She finds her time volunteering to be "an incredibly fun way to play a purposeful role in the community that I love and live in." She enjoys helping the women find flattering outfits and helping them feel their best.
The Working Wardrobe program provides women with new and gently used clothing that is appropriate for work or job interviews — at no cost. Having clothes to wear that keeps up with trends boosts confidence and gives these women an edge they wouldn't otherwise have.
These volunteers bring security and comfort to the folks they serve. When speaking to them, their passion for the work they are doing is clear. "I feel very fortunate to be able to help YWCA with their work in providing transitional housing and emergency shelters. Creating beautiful, clean, safe spaces for people in need is incredibly rewarding," Shana says.
For Whitney, volunteering "has expanded my world view because I get to connect with women that I otherwise might not get to meet who are from different walks of life."  Ann says "I like putting items back to use [...] from one person's home into another [...] a new lease on life for people and things."
The Central Area Food Bank and King County Emergency Services are currently accepting donations. If you would like to donate food, or new/gently used household furnishings, please visit our in-kind giving page or contact Lori Bugaj at lbugaj@ywcaworks.org.
Find out how you can get started as a YWCA volunteer on our volunteer opportunities page.
We share the stories of our program participants, programs, and staff, as well as news about the agency and what's happening in our King and Snohomish community.
Featured Image