Distributes food weekly to residents in YWCA emergency shelter and transitional housing, as well as low-income families throughout the community.
Due to the COVID-19 and the new Delta variant, we are continuing to offer home delivery only. To sign up complete the home delivery form and email it to mboyce@ywcaworks.org.  
All deliveries are on Wednesdays between 11:30am-2pm. Because we some of the food is perishable, someone must be home to receive the delivery.
We continue to strive to meet the needs of our community while maintaining the safety of our clients, staff and volunteers.
Please email with any questions.
---
由于 COVID-19 和新的 Delta 变体,我们将继续仅提供送货上门服务. 要注册,请填写送货上门表格并将其通过电子邮件发送至 mboyce@ywcaworks.org。 
所有交付时间为每周三上午 11:30 至下午 2 点。因为我们有些食物容易腐烂,所以必须有人在家接货. 我们将继续努力满足社区的需求,同时维护客户、员工和志愿者的安全 
如有任何问题,请发送电子邮件至 (mboyce@ywcaworks.org) 
---
COVID-19と新しいDeltaバリアントにより、引き続き宅配のみを提供しています。サインアップするには、宅配フォームに記入して、mboyce @ ywcaworks.orgに電子メールで送信してください。 
すべての配達は水曜日の午前11時30分から午後2時までです。私たちの食べ物の一部は腐りやすいので、配達を受けるには誰かが家にいる必要があります。私たちは、クライアント、スタッフ、ボランティアの安全を維持しながら、コミュニティのニーズを満たすために努力を続けています。 
ご不明な点がございましたら、メール(mboyce@ywcaworks.org)でお問い合わせください。
---
Do COVID-19 và biến thể Delta mới, chúng tôi chỉ tiếp tục cung cấp dịch vụ giao hàng tận nhà. Để đăng ký, hãy hoàn thành biểu mẫu giao hàng tận nhà và gửi email đến mboyce@ywcaworks.org. 
Tất cả các chuyến giao hàng đều vào các ngày thứ Tư từ 11:30 sáng đến 2 giờ chiều. Vì chúng tôi một số thực phẩm dễ hỏng, nên phải có người ở nhà để nhận hàng. Chúng tôi tiếp tục cố gắng đáp ứng nhu cầu của cộng đồng trong khi duy trì sự an toàn của khách hàng, nhân viên và tình nguyện viên của chúng tôi. 
Vui lòng gửi email (mboyce@ywcaworks.org) nếu có bất kỳ câu hỏi nào. 
---
Debido al COVID-19 y la nueva variante de Delta, continuamos ofreciendo entrega a domicilio únicamente. Para registrarse, complete el formulario de entrega a domicilio y envíelo por correo electrónico a mboyce@ywcaworks.org. 
Todas las entregas son los miércoles entre las 11:30 am y las 2 pm. Debido a que algunos de los alimentos son perecederos, alguien debe estar en casa para recibir la entrega. Continuamos esforzándonos por satisfacer las necesidades de nuestra comunidad mientras mantenemos la seguridad de nuestros clientes, personal y voluntarios. 
Envíe un correo electrónico a (mboyce@ywcaworks.org) con cualquier pregunta. 
---
The Central Area Food Bank is located at YWCA Phillis Wheatley Branch. Our entrance is behind the main building on 29th Ave.
Donations for the food bank are accepted Mondays and Wednesdays from 9 a.m. to 3pm. You can also leave items in the Little Free Pantry to the right of our gate.
Eligibility & Enrollment
Residents in YWCA emergency shelter and time-limited housing receive first priority and should have their unit number, voucher from their case manager, and case manager name when they pick-up food. 
Related Events
Learn how to get started as a YWCA volunteer.
Henry M. Jackson Conference Center @ Everett Community College
Image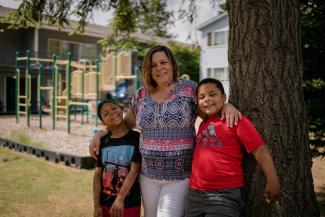 Join us for a community celebration of YWCA's Snohomish County programs, staff, and supporters!