Hours
Sunday
Closed
Monday
Closed
Tuesday
Closed
Wednesday
12:00 pm-3:00 pm
Thursday
Closed
Friday
Closed
Saturday
Closed
Distributes free food and groceries weekly to residents in YWCA emergency shelter and transitional housing, as well as low-income families from the community.
Due to the current COVID-19 restrictions, we have temporarily moved to home delivery only.
Please fill out the home delivery form and email it to mboyce@ywcaworks.org. Know we do our best to give every client every item they ask for, but some sub-ins may happen.
All deliveries occur on Wednesdays between 12-3pm, and someone must be home to receive.
We are doing our best to see to the needs of the community, the safety of volunteers, and our part of flattening the curve. 
Please email (mboyce@ywcaworks.org) with any questions.
---
The Central Area Food Bank is located at YWCA Phillis Wheatley Branch, behind the main building off of 29th Ave.
12-2pm is for YWCA clients with a voucher. Line up starts at 10:30 am.
2-3pm for the General public, no proof necessary. 100 numbers are handed out at 12:30 pm.
Donations for the food bank are accepted Wednesday mornings from 9 a.m. to noon.
Eligibility & Enrollment
Residents in YWCA emergency shelter and time-limited housing receive first priority and should have their unit number, voucher from their case manager, and case manager name when they pick-up food. 
Related Events
Image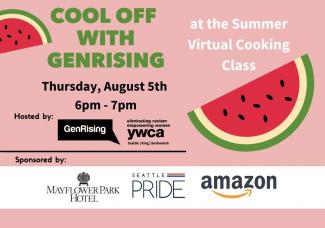 Join YWCA's GenRising and Chefs Tiffany Layco and Jason Hester on August 5 to learn a new summer recipe.
Find out how to get started as a YWCA volunteer.