Tuesday was a historic night. As Americans voted in the most important midterm election in a generation, women broke barriers everywhere. Here in Washington State, organizers with De-Escalate Washington celebrated voters passing Initiative 940 on election night after a long-fought campaign by Native and African American communities.
YWCA is thrilled to be celebrating the first Native American women elected to serve in Congress, after Deb Haaland and Sharice Davids were elected to the House of Representatives from New Mexico and Kansas, respectively. Meanwhile, the Midwest elected the first Muslim women to Congress in Michigan's Rashida Tlaib and Minnesota's Ilhan Omar.
Over 100 women won House races on Tuesday, including locally in Washington State. That marks a record-breaking 122 women projected to serve in the House and Senate next year. Washington State is currently close to setting its own record on voter turnout, with ballots still arriving that could push voter turnout over the 1970 record of 72 percent.
Initiative 940 Passes!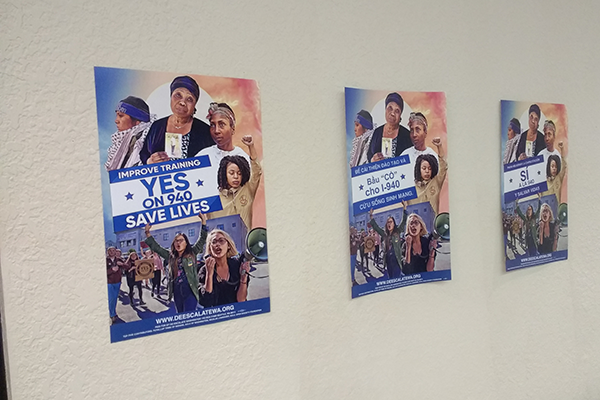 At 8:35 p.m. on election night at Southside Commons in Columbia City, huge cheers filled the small former chapel building as campaign staff and advocates celebrated I-940's commanding lead in the polls. As a projector screen showed the initiative winning with a whopping 60 percent of the vote, Lead Attorney Leslie Cushman with De-Escalate Washington led a call and response of the names of people in Washington who have been killed by police.
Back in August, the Washington State Supreme Court handed down a decision on Initiative 940, ruling that I-940 would go to the ballot in its original form for voters to decide. This kicked off an incredible campaign by De-Escalate Washington to educate voters and get I-940 passed.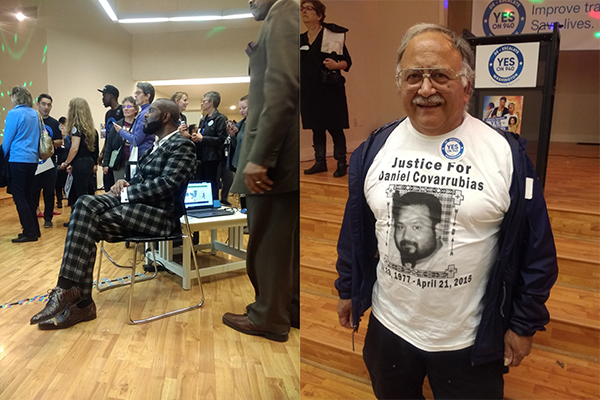 I-940, which will change the use of force law for police officers in Washington, was brought to the state legislature through an initiative drive by De-Escalate Washington and endorsed by YWCA Seattle | King | Snohomish. The law creates greater transparency and accountability for the actions of police by establishing a "reasonable officer" standard to evaluate when an officer has acted inappropriately. This removes the de-facto immunity that police have from prosecution when they commit a crime. The law also funds de-escalation training for all officers, giving them the tools to defuse situations without resorting to violence.
As the election results rolled in, campaign staff, community members, and the families of those who have been killed in police shootings honored memory and celebrated victory at Southside Commons.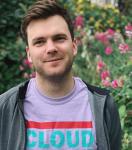 Eric Bronson is the Digital Advocacy and Engagement Manager at YWCA. He manages the Firesteel blog in addition to its social media streams and action initiatives. A graduate of Oberlin College, Eric focuses on the intersection of race and gender within the American political economy.
We tell the stories of those with lived experiences of racism and sexism and invite supporters to take concrete actions to correct the root causes of disparity in our communities.
Featured Image