A local advocacy group is working to overcome the barriers to voting faced by people experiencing homelessness. New laws passed in Olympia after pressure from advocates are also making it easier to become a voter in Washington State.
In 2005, Washington State became the second state in America to make voting by mail its primary method of holding elections. The decision to move to mail-in voting was driven in part by the experience of the 2004 governor's race, the closest race in history. Christine Gregoire became governor after winning by only 133 votes after two recounts. Electoral reform of vote by mail was meant to expand the electorate, and reduce the need for costly and time-consuming polling locations.
Two years later, the Seattle/King County Coalition on Homelessness (The Coalition) began registering people experiencing homelessness to vote, now that voting was as easy as having a mailing address. "Back then, people asked us, 'why is an advocacy organization doing voter registration?'" said Hillary Coleman, Community Projects Manager at The Coalition. "Now, no one thinks that's out of the ordinary."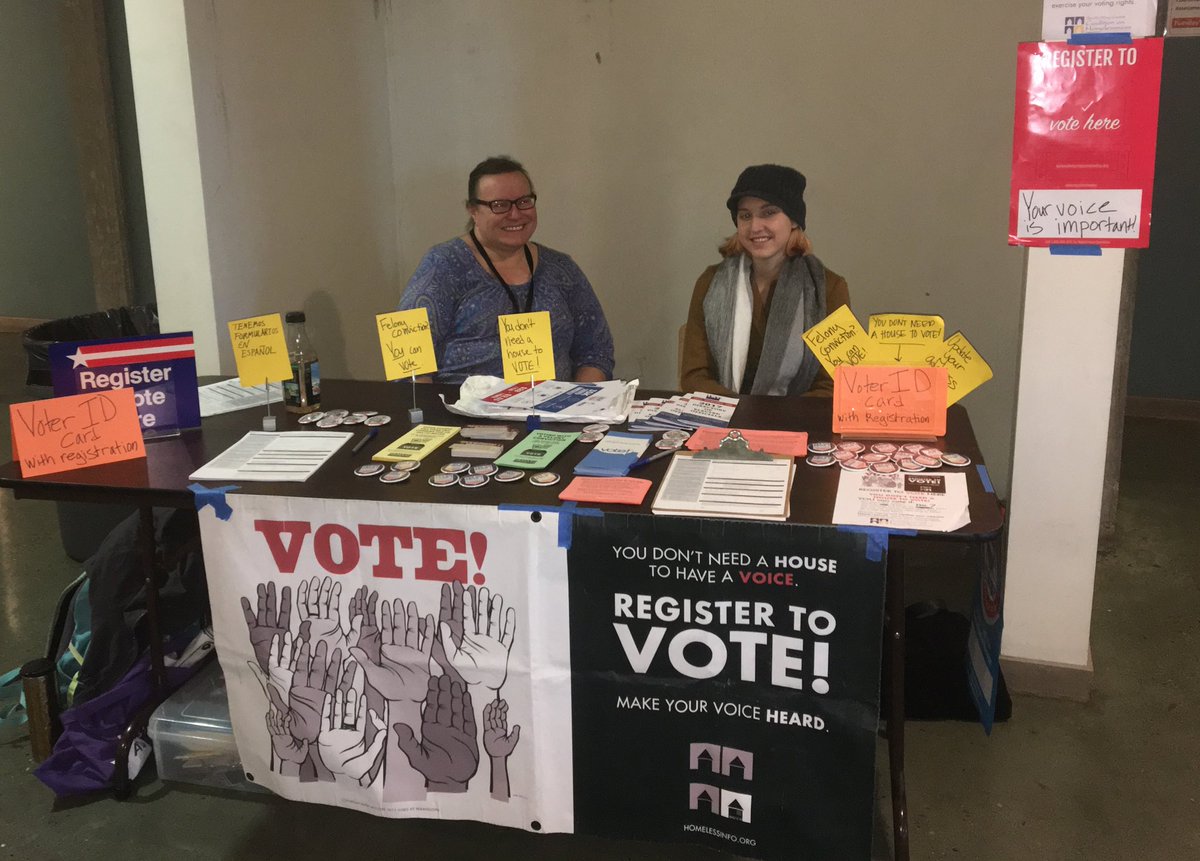 The Coalition's voter registration efforts have been focused on making electoral participation possible for the thousands of Washington citizens who experience homelessness every year in King County. Since they began the program in 2007, they've registered close to 2,000 people to vote, including over 300 just last year. "It really is just making sure people know they have the right to vote, and they can do that," says Hillary.
Having a felony conviction doesn't stop you from voting
One of the common barriers that prevents people from registering to vote is the incorrect belief that felons cannot vote. In fact, since 2008, any felon who is no longer incarcerated or under Department of Corrections supervision has been eligible to vote in Washington State. Most people who are homeless don't have felonies, but many people who exit our prison system do so directly into homelessness. This is because felons have more barriers to finding housing and jobs, and because our jails don't do anything to help set them on their feet after they're released.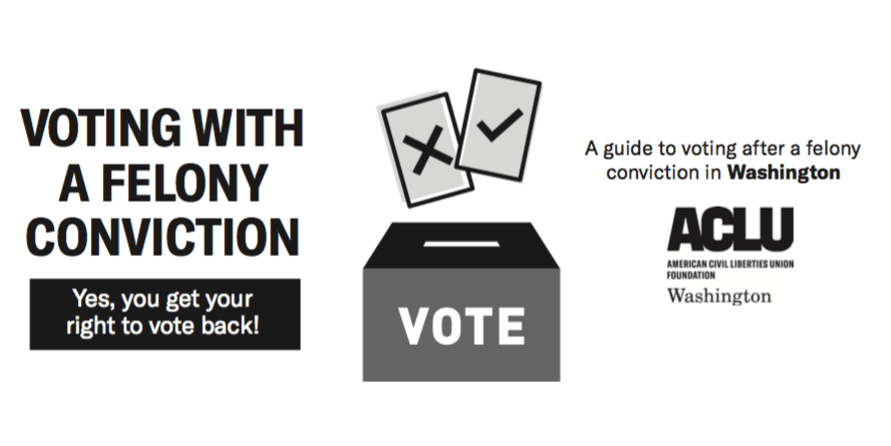 Hillary also recounted the story of Dennis, an advocate who organized on the Veterans and Human Services Levy: "He came to one of our workshops a couple years ago, and he didn't know he could vote because of a felony conviction and so he registered." Dennis now volunteers with The Coalition all the time, and he actually voted for the first time in 2016. "It was really a fun thing to drop off our ballots together." said Hillary. "And to be able to see him and some other volunteers with personal experiences of homelessness or a felony conviction to be able to share those experiences with the folks they register is pretty powerful."
The difficulty of an Address
While voting by mail has made it easier to stay involved when voters experience homelessness by doing away with limited polling places and lines, it has introduced a new wrinkle; the need for a mailing address. For residential addresses, state law allows voters to register at their shelter address, a public library that they go to, or even a cross street that they live near. This also helps maintain their privacy if they don't want their exact location to be known for their own safety.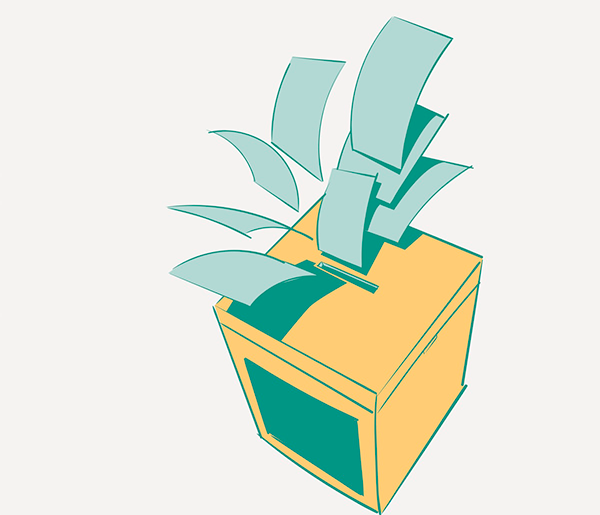 The Coalition has helped overcome the barrier of mailing addresses by registering people to vote who utilize Compass Housing's mail room. Over 5,000 people receive mail at Compass, making it the biggest mail address for people experiencing homelessness in King County. In recent years, more day centers have begun offering mail services, including down in Kent and Auburn. This has also helped expand the options for people who live south of Seattle.
"[King County] Elections has been a good partner" Hillary says, noting that The Coalition works closely to provide addresses of day centers, shelters, and churches that might not show up as residences in the database, but are used for voting.
Voter Registration gets a boost from new Laws
During the 2018 legislative session, a number of new laws were passed that aim to increase the number of people registered to vote by making it easier to do so. All of these bills are slated to go into effect in July 2019, to give the Secretary of State's office time to prepare their system for registering voters.
Same-Day Registration (Senate Bill 6021): Allows people to register up to eight days before an election to vote by mail (currently 29 days), and up to 8 p.m. on the day of the election if voting in person.
Automatic Voter Registration (House Bill 2595): Any time a person gets an enhanced driver's license,  they'll be automatically registered to vote by the Department of Licensing. Even if you're already registered, if you update your address it'll automatically update your voter registration. 
Pre-registration for Students (House Bill 1513): In schools, students aged 16 or 17 can pre-register to vote, and when they turn 18 they'll be sent a ballot.
Advocates, including The Coalition, pushed for these bill to be passed for a number of years before their success this fall. Alongside the more recently-enacted decision to provide pre-paid postage for ballots, these reforms are a powerful set of tools to expand access to voting.
Registering voters for 2018
The Coalition will be holding trainings in September for volunteers who want to help register folks experiencing homelessness to vote. The trainings are also for case managers and front-line staff of nonprofits to attend, "we always encourage people who are working with folks experiencing homelessness, to register their folks to vote."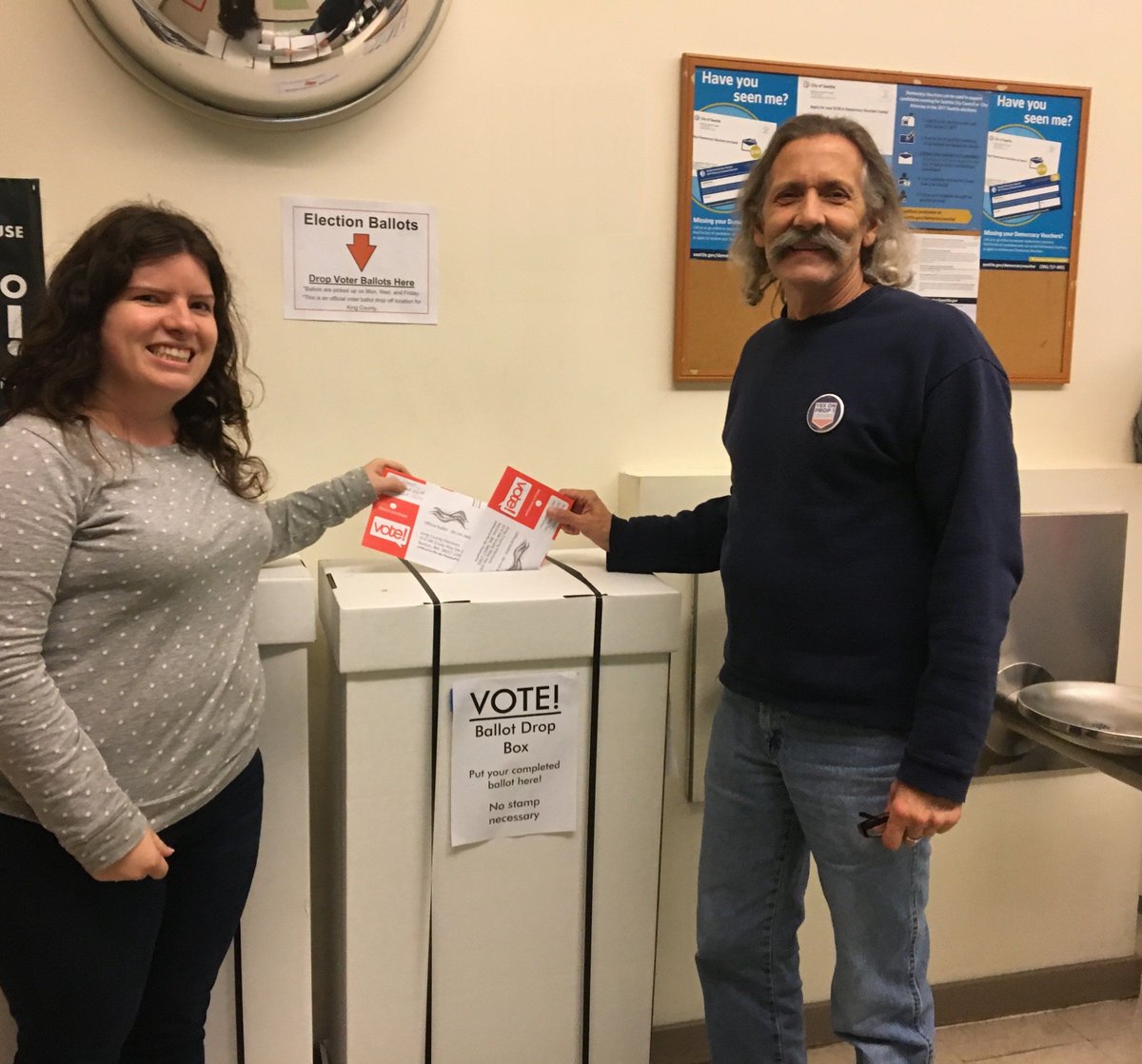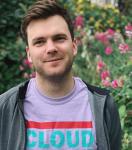 Eric Bronson is the Digital Advocacy and Engagement Manager at YWCA. He manages the Firesteel blog in addition to its social media streams and action initiatives. A graduate of Oberlin College, Eric focuses on the intersection of race and gender within the American political economy.
We tell the stories of those with lived experiences of racism and sexism and invite supporters to take concrete actions to correct the root causes of disparity in our communities.
Featured Image