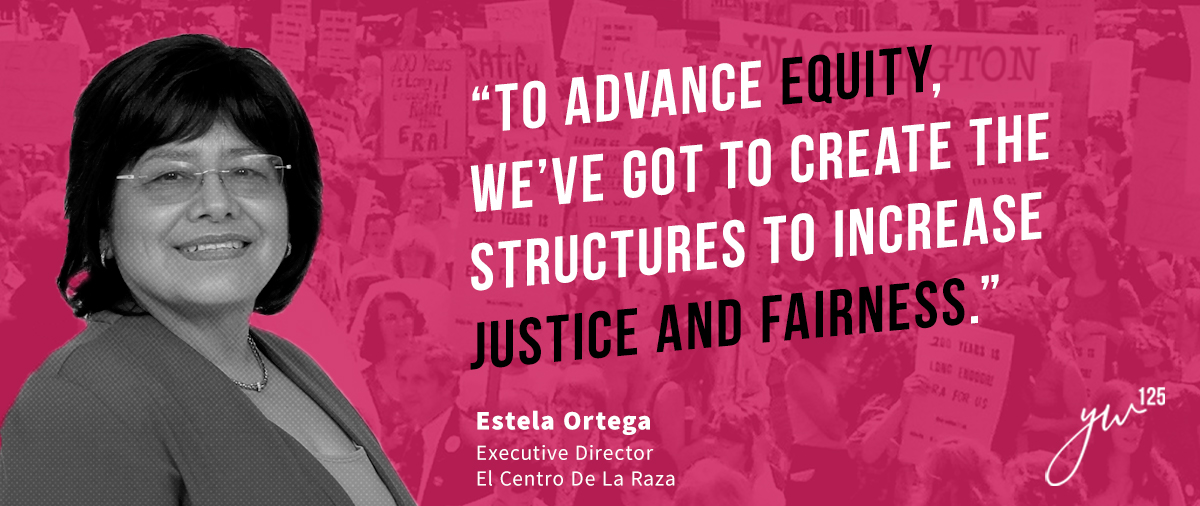 Who we are – both individually, and the fabric of our communities – has been undeniably shaped by the influential, inspirational women in our lives. While each woman's story is unique, we all have shared triumphs and struggles that unite us.

Washington Women Who Dare is a new YWCA series celebrating our collective strength as women. As our 125th anniversary celebration continues through 2019, stay tuned for exclusive interviews with local women who are shaping our region in important ways.
Estela Ortega is the Executive Director of El Centro de la Raza (El Centro), a nonprofit whose mission is to build unity across racial and economic lines, and to organize, empower, and defend our most vulnerable populations. She's dedicated the last 47 years of her career to El Centro, which has taken the lead on key issues facing our region through efforts such building Plaza Roberto Maestas --a low-income housing community in Beacon Hill.
Estela's unwavering commitment to building community and advocating for those most marginalized has earned recognition from the Seattle Seahawks and the National Education Association to ParentMap and Sens. Maria Cantwell and Patty Murray. She spoke to us about women who have inspired her, how white women can be allies in the fight to end inequity, and her vision for the future of women in Washington.
YWCA: Name a woman who has inspired you in your life and share why.
Estela Ortega: Certainly that was my grandmother who I practically saw every single day because she lived down the street from me in Texas. She was a very hard-working woman--she worked the fields and she was a farmer growing all kinds of vegetables and even cotton. I can still envision it in my mind: my grandmother was a small, little woman on this huge tractor and they had these big bins on the front of the tractor that she'd put us in as she was going down the country roads. She was so influential because she was extremely loving. There was always unconditional love on her part because my childhood was very traumatic in that my mother didn't have those same qualities. She was very patient and understanding when things didn't go the right way and she's just been so important in my life.
YWCA: We all need a helping hand at some point in our lives. Share a time you overcame a barrier and who helped you.
EO: I'm part of El Centro de la Raza and I've been here almost from the beginning, so it puts me in one place in time for 47 years. I came as a young woman, 22 years old, and El Centro de la Raza is an organization where I felt welcome, where I could be myself, and where there were structures in place that provided support to us as women. We all started off as volunteers but there were things like our charlas, where we talked about sexism, racism and issues that were happening in the community. It wasn't about me as an individual saying, "I need support from one particular woman," but rather there were lots of women within El Centro de la Raza. We all depended on each other because of our commitment to build this organization and provide services to the community. In many ways we were a collective.


YW: What do racial/gender equity mean to you?
EO: It's obviously about fair treatment--opportunities for women--and of course within that, that you're able to advance within an organization. But in saying that, in order to advance equity, we've got to create the structures to increase justice and fairness. There's a lot of work to be done because Latinas make a lot less than white women. Latina women earn about 53 cents on every white man's dollar--as compared to white women who earn 77 cents. If you look at the impact of that, obviously it's wealth, home ownership, saving money. For Latinos to accumulate the same type of wealth as a white family, it's going to take a little over 3 generations or 84 years. During that period, children are growing up and becoming adults and they begin to have their own children--close to 3 generations is a long, long time. What that means concretely is that women of color experience oppression simultaneously because of their gender and race, so we cannot end racial and gender inequity without ending racism.


YW: What role do men (or allies more generally) play in supporting empowered women? How have allies in your life supported you?
EO: It's my hope that the women's movement--which is primarily the white women's movement at this point--will provide leadership to other white women in discussing the need to end structural and institutional racism. We need the white women's movement to lead on this and to work at undoing barriers that prevent equality for women of color. In essence, the women's movement must actively raise the question of ending structural and institutional racism and lead on it. The other part of the question was around how allies have helped in my life--I've worked at El Centro de la Raza for 47 years and it hasn't been a job, it's been a way of life in terms of working at creating community. You do whatever it takes and so white allies, both men and women, have played a significant role in being supportive of the organization and standing up for issues that have been important in the Latino community. Over the last several years, our white allies coming from many different walks of life--whether it's the faith community or from other nonprofit organizations--have been standing up and that's what we need more of because there is a lot of work to be done, not only around wage inequality but obviously in housing, education and childcare, among others.


YW: What is your hope or vision for women in Washington?
EO: I want to reiterate what I said in the previous question because that's what I think needs to happen. We need to address structural and institutional racism. When people think about racism, they think that it's the work of people of color. And yes it is, but it's also the work of white people--it's the role of white women to speak up to ensure women of color are paid equitably, as an example.
YW125 is a year-long celebration of YWCA's proud commitment to serving women and their families in our region for the past 125 years. By shining a spotlight on diverse local women and their stories, YWCA hopes to make 2019 "the year of Washington women" and lead the way in creating a new, bold vision for women across our state. 
Feeling inspired after reading? Visit ywcaworks.org/get-involved to learn about the many ways you can join us in our mission to serve and empower women and girls across our region.