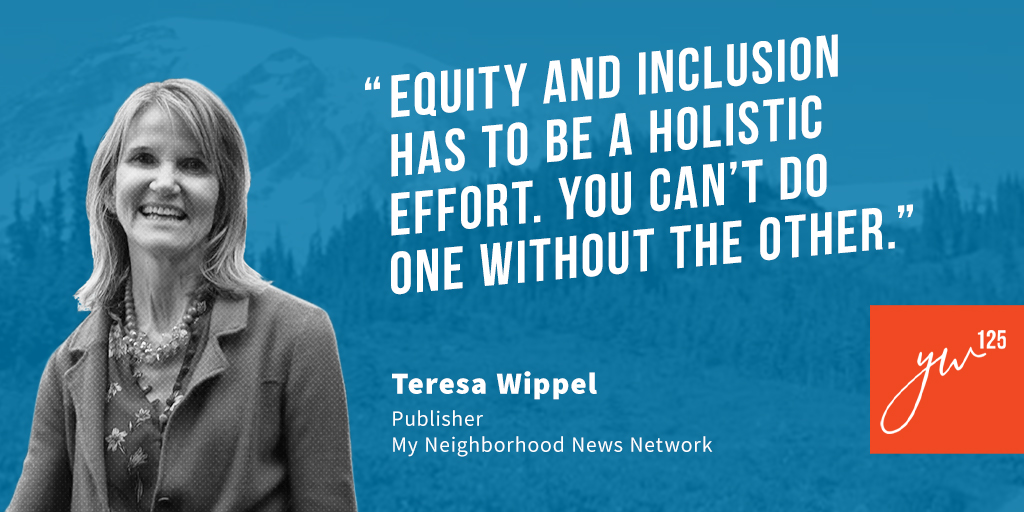 Who we are – both individually, and the fabric of our communities – has been undeniably shaped by the influential, inspirational women in our lives. While each woman's story is unique, we all have shared triumphs and struggles that unite us.

Washington Women Who Dare is a new YWCA series celebrating our collective strength as women. As our 125th anniversary celebration continues through 2019, stay tuned for exclusive interviews with local women who are shaping our region in important ways.
Teresa Wippel is the editor and publisher of the My Neighborhood News Network, a one-stop shop for all things South Snohomish County. Recently named the 2019 Edmonds Citizen of the Year for her dedication to bringing objective, fact-based reporting to her community, Teresa spoke to us about her experiences in a male-dominated field and the role that allies can play in supporting women.
Read on to learn more about her efforts to bring Snohomish County neighbors together for community discussions around racial equity, housing and homelessness, and why she believes the best way to build a better world is by starting in our own backyards.
YWCA: Name a woman who has inspired you in your life and share why.
Teresa Wippel: My older sister Mary, because she was really ahead of her time in so many ways. Since she was so much older than me, she really was a second mom to me in a lot of ways. She was in the Peace Corps twice, and ended up being a school teacher--often working in inner city schools. Those ideals really carried over to me in terms of understanding the value of community service and helping others who were less fortunate. To this day, she is retired but still a key volunteer for an organization that works to resettle refugees coming into the U.S. The fact that she's still going strong and loving what she's doing gives me a lot of hope about what you can do regardless of your age, and also how passion can fuel your life. 
YW: What advice would you have for your fellow Washingtonian women looking to make an impact in their communities, but don't know where to get started? 
TW: There are so many volunteer opportunities out there and that's the best place to start. The key is to volunteer where you have a passion. What do you feel strongly about? It always amazes me when people throw up their hands and say, 'Well, what can I do about it?' It's that whole analogy of walking on a beach, and you can't save all the starfish that have washed up, but you can save one. You can't save the world, but you can save your part of the world and that's why I love what I do. Look at your community and ask 'what can I do to make this place better?". . . that's really all I have control over. Anyone that says they don't know what they can do, in my mind, have not looked very hard because everyone needs help. Even if you don't have money to donate, just dive in!


YW: What does gender equity mean to you? 
TW: Ensuring that everyone has access to opportunities regardless of gender and that we make sure we're working to include as many people as possible in those opportunities. You can't do one without the other--equity AND inclusion--because it has to be a holistic effort. It also means getting rid of the stereotypes that permeate so many things and can discourage people from following their passions.
There's an organization I'm still a member of, called the Association for Women in Communications, and they started a chapter at the UW campus back in 1909 when women were not allowed into newsrooms other than as society reporters. They used to have this huge dinner where they would give out "Women of Achievement Awards" and I still remember going to my first one of those. I was in this huge ballroom surrounded by professional and accomplished women and I thought, ' This is possible! I can do this, and it doesn't have to be in a room full of men. Look at all these women doing this amazing work'.


YW: What makes you feel empowered? How can we help empower our neighbors? 
TW: One of the things that I think has made people feel less empowered, in recent years especially, is the division in our opinions and the fact that people don't listen to each other anymore. I think that plays such a huge role in making people feel empowered--if they feel they've been heard. By showing that you've heard someone and you're willing to listen.
I've been running a series of events called the "3 Practices" in our area and the first three were really good. We've had a couple focused on affordable housing and homelessness and another was on racism. The idea is to help people learn how to listen and talk more respectfully to each other and it was really great to figure out how to give people the tools to do that. I want to do more because I see it all the time in public meetings when I go to cover them, people are just shouting at each other. 
In Snohomish County, we have a "hidden" homelessness problem. People don't want to admit it exists, but the City of Edmonds has been trying to develop some strategies to create more affordable housing in our area for people who, for example, work here but can't afford to live here. and They're commuting 30 miles away because they can't afford it.


YW: What role do men (or allies more generally) play in supporting empowered women? How have the men and other allies in your life supported you?
TW: I think the best thing men can do is not place limits on the women in their lives and believe in their ability to determine their own life. I feel so fortunate that my dad was the most supportive person of me, never placed any limits on what I could do. He had an open-arms approach to accepting me as a person, wanting me to be happy and do what I wanted to do. When I ended up majoring in journalism and going to journalism school, he was excited and really supportive. That made a huge difference in terms of what I was able to accomplish. We all have our strengths and weaknesses but everyone should be able to follow their passion--regardless of gender. 
YW125 is a year-long celebration of YWCA's proud commitment to serving women and their families in our region for the past 125 years. By shining a spotlight on diverse local women and their stories, YWCA hopes to make 2019 "the year of Washington women" and lead the way in creating a new, bold vision for women across our state. 
Feeling inspired after reading? Visit ywcaworks.org/get-involved to learn about the many ways you can join us in our mission to serve and empower women and girls across our region.