Youth Opportunity Training Program
Hours
Sunday
Closed
Monday
10:00 am-5:30 pm
Tuesday
10:00 am-5:30 pm
Wednesday
10:00 am-5:30 pm
Thursday
10:00 am-5:30 pm
Friday
Saturday
Closed
Contact
Youth and Young Adult Career Navigator
Alexander Khem
Youth and Young Adult Career Training Navigator
Dragon LT
Our Youth Employment Program and Youth Opportunity Navigation Programs help teens and young adults pave a path towards college and career success.
Youth Employment Program (YEP)
This program is in partnership with Starbucks to help our targeted youth and young adult clients ages 16-24 (15-year-olds are also eligible) have the opportunity to engage in a Customer Service Excellence Training Workshop to help them build, grow, and develop skills in customer service that is needed not only in hospitality, cafes, and retail but every job field out there.
We teach the workshop class of the following learning objectives that satisfy the curriculum in a classroom setting: What is customer service, teamwork/team building, time management – punctuality, handling good or bad customer service then going deeper into job readiness toward resume/cover letter writing and job interview preparation.

Youth Opportunity Navigation Program
This program helps to target our youth and young adult clients ages 16-28 (15 years old is acceptable) in providing road map navigation on college/career exploration towards success. Our Youth Opportunity Navigation provides the following services: Full-Time/Part-Time employment coaching/navigation. Preparing resumes and writing cover letters, Job interview preparation, Short-Term training programs, College/University scholarship referrals and navigation, Internship/Apprenticeship referrals, and more.
Eligibility & Enrollment
Youth Employment Program
NO prior work/education experience required
"TEAM" approach to learning
Introduction to Café Operations
Job Search, Resume & Cover Letter Tips
Certificate of Completion and an incentive for participant's commitment and dedication at the end of the program
Transportation help is available
Youth Opportunity Navigation Program
King County Public Housing and White Center/South King County Residents, ages 16-28 (15-year-olds are also eligible)
Free Greenbridge parking on site
Accessible by King County Metro route 60, 128, and 131
Related Events
Image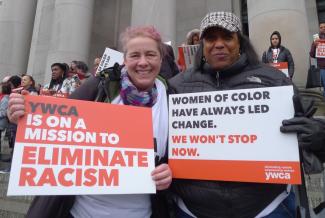 Join YWCA & the Washington Low Income Housing Alliance virtually at HHAD, February 6-8
Learn how to get started as a YWCA volunteer.