Hours
Sunday
Closed
Monday
9:00 am-4:30 pm
Tuesday
9:00 am-4:30 pm
Wednesday
9:00 am-4:30 pm
Thursday
9:00 am-4:30 pm
Friday
9:00 am-4:30 pm
Saturday
Closed
Helps individuals, couples, and families who are on the edge of homelessness to maintain their current rental or find an alternative home. Participants work with case managers to build skills for economic empowerment and housing stability.
Project Self-Sufficiency (PSS) works to increase housing stability for Seattle renters facing a serious and immediate housing crisis.  
Program participants learn how to strengthen their housing stability and maintain permanent housing, work with case managers to develop and implement goals for self-sufficiency, and attend classes to improve parenting, professional, and life skills.  
Eligibility & Enrollment
Applicants for Project Self-Sufficiency should meet the following requirements: 
Renting a home in Seattle and facing serious and immediate housing crisis 
Able to provide current verifiable income, move-in statement, or proof of Utility Shut-off Notice 
Willing to work with a case manager and attend workshops 
To enroll in Project Self-Sufficiency:  
Call the intake line for a phone screening, 206.209.5677. 
Your call will be returned by a case manager, who will determine program eligibility and schedule an in-person appointment.
Services Offered
Rental/Utility Assistance
Related Events
Learn how to get started as a YWCA volunteer.
Henry M. Jackson Conference Center @ Everett Community College
Image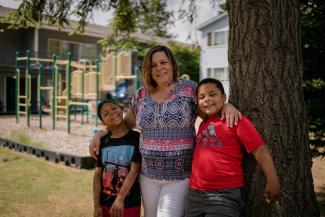 Join us for a community celebration of YWCA's Snohomish County programs, staff, and supporters!