Supportive housing community helps parents facing homelessness after incarceration to reunite with their families and build a foundation for the future.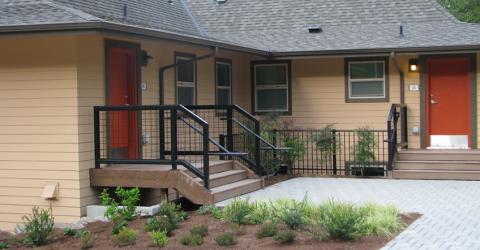 Incarceration, addiction, and homelessness make it difficult to overcome barriers to obtain housing, employment, and education. Passage Point offers supportive housing, services, and advocacy for previously incarcerated parents to facilitate family reunification and stability.  
Through educational and social opportunities, Passage Point helps reduce the chances of re-incarceration by equipping parents with the tools, skills, and resources for success. Re-Entry Life Coaches work with residents individually, encouraging self-sufficiency, positive community interaction, and connecting people to community services. 
Services for residents include: 
Pre-release screening and counseling 
Intensive case management 
Family reunification support 
Education, job training, and placement support 
Financial literacy and budgeting 
Referral to mental health and chemical dependency counseling
Domestic violence support 
Self-improvement programs 
Children services and school liaison support 
Permanent housing planning 
Follow-up case management 
Passage Point is a project unlike any other in our region and makes a lasting difference for the families who live here and the community as a whole.
Eligibility & Enrollment
Passage Point residents are selected through community referrals and outreach. Each applicant goes through a screening process which includes an application, interview, child reunification assessment, and Section 8 housing voucher approval.  
Eligibility guidelines for Passage Point applicants include:  
Has been incarcerated in jail or prison within the last 12 months 
No convictions for violent crime, sexual offense, or methamphetamine production 
Homeless upon release, or history of homelessness 
Has a child under the age of 18 and a reasonable chance of reuniting with them (resident family size of five or less) 
Meets income eligibility per Section 8 guidelines 
Signed agreement for YWCA housing and case management 
Demonstrated ability to make change and work toward self-sufficiency 
Please see Documents listed on this page for more details. 
Related Events
Learn how to get started as a YWCA volunteer.
Learn how to get started as a YWCA volunteer.