Gender-Based Violence Specialized Services
Hours
Sunday
Closed
Monday
8:30 am-5:00 pm
Tuesday
8:30 am-5:00 pm
Wednesday
8:30 am-5:00 pm
Thursday
8:30 am-5:00 pm
Friday
8:30 am-5:00 pm
Saturday
Closed
Contact
Toll-free call & text line
YWCA's Gender-Based Violence Specialized Services (GBVSS) uses a survivor-centered model to heal the harm caused by domestic violence, intimate partner violence, and gender-based violence on individuals, families, and our community. Our services utilize a culturally relevant practice and trauma-informed care approach.
Gender-Based Violence is violence against a person because of their gender and encompasses domestic violence, sexual assault, and sex trafficking. Gender-based violence can happen to anyone, regardless of race, gender, age, religion, education, class, or sexual orientation.
Services include individual assistance with safety planning and issues related to gender-based violence, as well as weekly support groups. Our advocates provide intensive, individualized services for survivors who are furthest from opportunity.
Domestic Violence Legal Services 
206.743.7064
Provides legal advocacy for survivors with legal issues related to domestic violence, including: protection orders, divorce, parenting plans, employment rights, eviction, housing, and more. 
Children's Domestic Violence Advocacy 
206.491.2541
The Children's DV program works with children and non-abusive parents to minimize the impact of family violence. We utilize a nationally recognized model to help children overcome the trauma of witnessing violence in the home. 
Sexual Assault Advocacy 
206.741.9796
Our sexual assault services offer advocacy, safety planning, resources and supportive services for the needs of survivors. We provide trauma-informed care and community-based interventions to prevent and respond to sexual violence. 
Survivors FIRST (Facilitating Information and Referrals for Survivors of Trauma) 
206.743.7064
Our unique partnership with the King County Prosecuting Attorney's Office to identify survivor-defendants who have been arrested and jailed. Our services are to facilitate information and direct resources to improve the quality of life for survivors. 
Commercial Sexual Exploitation (CSE) Advocacy
425.428.3593 
CSE provides trauma-informed care, community-based wraparound services that are grounded in the emerging best practices. Our goal is to reach survivors furthest away from opportunities in marginalized communities. 
Gender-Based Violence Community Advocacy 
Community advocates provide mobile advocacy, safety planning, limited supportive services, violence education, outreach, trainings, and support groups. Free, confidential advocacy is available from within the Department of Social & Health Services offices and other safe locations throughout Seattle and South King County. 
Gender-Based Violence Support Groups 
Weekly support groups meet at confidential locations in Seattle and South King County, with specialized groups for Black and African American women as well as Spanish-speaking women. 
Rapid Re-Housing 
206.794.3547
Our rapid re-housing program is a short-term housing intervention to assist survivors and their families to quickly transition from homelessness into stable and affordable or fair market housing options.
Related Events
Image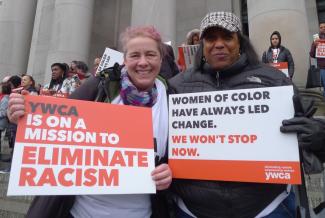 Join YWCA & the Washington Low Income Housing Alliance virtually at HHAD, February 6-8
Learn how to get started as a YWCA volunteer.