Because of the generosity of a local foundation, YWCA is able to support our employees who have had to shoulder the burdens of being working parents during a pandemic.
How this grant started
An anonymous local foundation has stepped forward to provide relief funds to parent-employees of YWCA Seattle | King | Snohomish. This incredible act of innovative philanthropy is impacting nearly 100 employees who are tirelessly juggling incredible work and family dynamics as a result of COVID-19 school and childcare closures. This additional financial support is providing our employees the ability to keep serving women and children in need in our community.
This foundation decided that the best way to support families during the COVID-19 pandemic and resulting economic crisis is through supporting an organization that provides frontline services. Most of YWCA's services have remained open throughout the pandemic because of the dedication of our frontline staff.
YWCA remains committed to finding ways to take care of our staff as they take care of our program participants and residents. We have worked to find additional resources and ways to show our immense gratitude throughout this difficult year, and have become increasingly aware of the struggles many staff have been experiencing as working parents. As schools have moved to remote learning and many childcare programs are closed, we recognize our employees' need to work and parent in extraordinary ways.  
This grant allows YWCA to provide funding directly to staff for childcare needs. YWCA staff working at least half-time will receive a monthly stipend per child under 12-years-old for three months. These significant stipends help with the additional expenses our YWCA employees are facing while balancing work responsibilities and childcare needs. 
Because we recognize that everyone's situation is unique, the grant is flexible so that employees can utilize it in whatever way they see fit. They can use it to pay for childcare, to purchase meals no longer provided by their children's schools, as well as to reimburse a family member who has taken on the role of caregiver without pay.
With this support, YWCA is able to retain employees, resulting in our program participants continuing to work with case managers and program staff they know and trust. 
WOMEN OF COLOR DISPROPORTIONATELY IMPACTED
Our staff – 80% women and 64% BIPOC folks, particularly Black and African-American staff – bear the brunt of high-risk, undercompensated direct service positions. YWCA is committed to hiring program staff who most reflect the communities they serve, and many are especially vulnerable to economic difficulties as well as to risk of exposure to COVID-19. 
Women are disproportionately on the frontlines of the fight against COVID-19 and make up a large portion of workers in essential occupations at organizations that have remained open during the pandemic, like YWCA. Our front desk, intake, and direct-line staff, including case managers and advocates, along with many of our administrative roles, are considered essential workers and cannot work from home. Additionally, many of our staff who can work remote to some degree are actively balancing work and parenting duties while at home. 
It's documented that the pandemic has not only resulted in a disproportionate number of women losing jobs, but also a trend of women "stepping away" from the workplace voluntarily. Considering the frequently inequitable split between spouses of managing the household, it's no surprise that the sudden pressure to be a teacher and caregiver, an employee, and a mother all that once is resulting in many women opting to remove work responsibilities from their massive to-do lists. By providing our employees with a grant for childcare, we're helping our staff better balance the pressures of their jobs and their families.
BUILDING RESILIENCY
While the Families First Coronavirus Response Act (FFCRA) was helpful earlier in the pandemic, many of our employees, particularly our housing, gender-based violence, and employment case managers are close to running out of these benefits. These YWCA employees are critical to engaging women and children who are in crisis and providing the support and services needed to create safety, stability, and hope for children and parents. YWCA must remain open, staffed, and fully functioning in all areas of our agency in order to avoid placing additional stress on systems and services that are already reeling from the effects of the pandemic.
We have provided extra support to frontline staff in the form of hazard pay because their duties place higher risk on their own health and the health of their families. We have also implemented flexible work schedules for many employees to make working from home or in a scattered rotation successful, but that hasn't been without its challenges. This grant allows us to be more resilient as an essential services agency, not just an employer with essential frontline workers.
WHAT'S NEEDED NEXT
This funding will get us through a critical period, but it is temporary. Greater support of service-providing nonprofits will be necessary to sustain throughout the immediate pandemic, the resulting recession, and as we establish new norms in business operations. Taking care of our employees right now is the most important thing we can do, but we know it's not enough.
This grant demonstrates that there are opportunities to support the nonprofit sector differently than before. We will not be able to return to our world before COVID-19, so we all have the opportunity to build a better system that works well for all members of our community.
We urge other funders to be creative with how they're supporting service-providing organizations. We're living in extraordinary times that require us to let go of the way we've done things in the past, embrace innovative solutions, and re-think how we define direct impact-funding.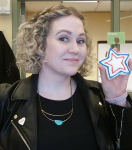 Annalee Schafranek is the Marketing & Editorial Director at YWCA. She contributes agency news, press releases, and media coverage to the website. Annalee's educational and professional experience has always focused on the place where gender equity and media meet.
We share the stories of our program participants, programs, and staff, as well as news about the agency and what's happening in our King and Snohomish community.
Featured Image