Building a social justice foundation is the first step for YWCA volunteers joining our mission. Race and anti-racism are intricate subject matters that can be difficult to advocate for without a base in its definition and principles. Read about how our volunteers learn to eliminate racism through social justice.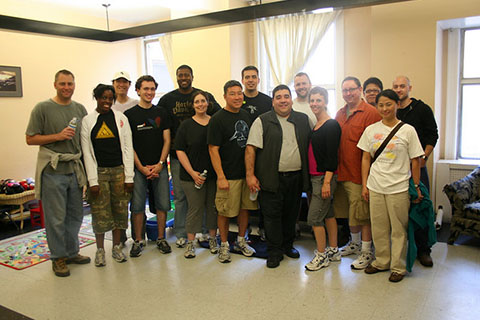 Getting Started with Social Justice & YWCA
YWCA calls community members to join our mission to eliminate racism and empower women. Volunteers that come to serve with us come from all socioeconomic backgrounds, races, gender identities, and more. It's important that our volunteers understand and support our mission because ending racism is a complex task and we need everyone's active participation to create a world without it. One of the first steps towards ending racism is education and awareness. For YWCA volunteers, anti-racism work is a journey we start together in orientation. 
Building a Foundation in Race and Social Justice
YWCA's volunteer orientations go over the history, service areas, and social justice mission of YWCA in an interactive format. Our goal is for our volunteers to walk away with a foundation in anti-racist principles. To expand the scope of our social justice advocacy, we would like to share some of our race and social justice toolkit.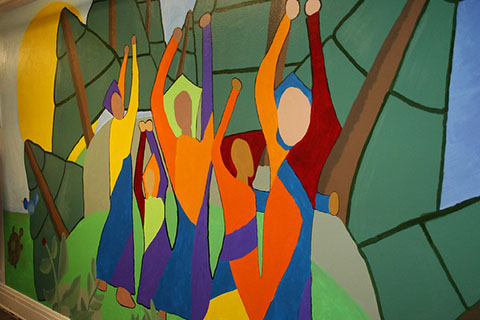 Understanding Race
There are categories that we commonly use to understand the world, such as race and ethnicity. 
RACE: What a person looks like. For example, someone's skin, hair or eye color. 
ETHNICITY: A person or group's nationality, culture, ancestry, language and/or beliefs.
Did you know? 
From an early age, Americans have been taught to identify our own race. We have experience checking our race on a box and often we see the "are you of Spanish/Hispanic origin" question following race. However, not many people know why that question is asked. According to Kevin Johnson, a professor at the University of California-Davis School of Law, Mexicans have, historically, been considered White for legal purposes in some U.S. jurisdictions. The Treaty of Guadalupe Hidalgo (1848) granted many Mexican people the legal identification of being a White American although, not necessarily its social privilege.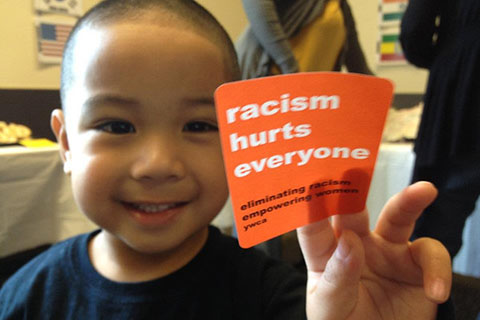 Institutional Racism
What is racism? Racial prejudice is the most common understanding of racism. This form of prejudice often attacks physical and cultural qualities directly. It can look like discrimination, name calling, property damage and physical assault. Racial discrimination is a concept that is not new to the world nor is it unique to the United States. However, racial prejudice doesn't quite fit the bill for systematic oppression as it exists in the United States. Without the power to influence social institutions, racial prejudice is just prejudice. Institutional power is the benefit we receive from social institutions. The idea that if we were to get sick and didn't need to worry about having access to healthcare would be considered institutional power.
Social Institutions: Groups of persons banded together for common purposes having rights, priviliges, liabilities, goals, or objectives distinct and independent from those of individual members.
Types of Social Institutions:
Government
Education
Religion 
Family
Healthcare
Economy & more
We all have our individual prejudices and implicit biases, but what creates institutional racism? When one group's prejudices are enforced by our society's institutions, resulting in greater rewards and privileges for the racial and gender group in power and fewer rewards and privileges for the group(s) without power.
PREJUDICE + POWER = RACISM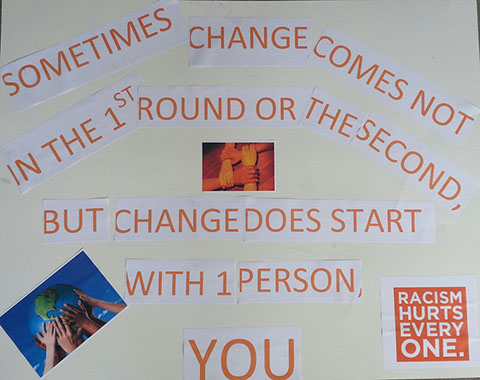 Dealing with Racism
Understand the issue – Start by getting to know the terminology around racism. A common language exists around racial social justice that works to solidify its foundation as a cause.
Recognize your part - We have all enforced a racism at some point either intentionally or unintentionally. As uncomfortable as realizing our contributions to the system can be, reflection and transformation are the key to overcoming it.
Take action - Stand up against racism! Lift up historically underrepresented groups. Support organizations that work towards racial equity. There is much to do and we need your help to eliminate racism.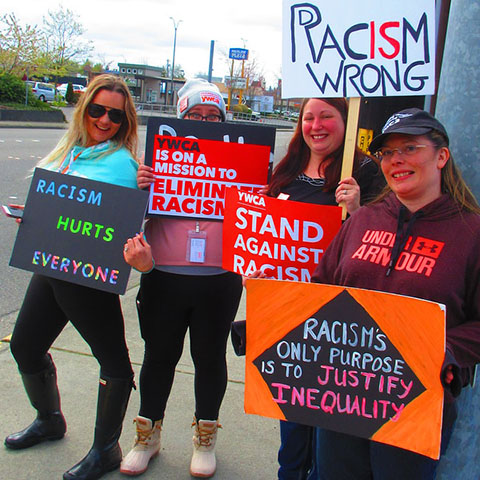 Stand Against Racism
Interested in strengthening your anti-racism work? Participate in YWCA's national Stand Against Racism campaign and check out our upcoming event with author of "So You Want to Talk About Race?" Ijeoma Oluo.
Anti-Racism Resources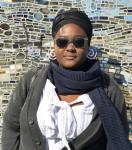 Kendyl Hardy is the Volunteer Services Coordinator at YWCA Seattle | King | Snohomish. As an avid volunteer herself, Kendyl finds volunteering is a way to grow personally and as a community. Kendyl graduated with a degree in Public Relations with a concentration in nonprofit management. Throughout her college career, she worked to highlight the importance of civic service to sustain society and feature dialogue about issues affecting our communities.
We share the stories of our program participants, programs, and staff, as well as news about the agency and what's happening in our King and Snohomish community.
Featured Image