April is Sexual Assault Awareness and Prevention Month, and this is the first in a two-part blog series uncovering how laws and policies in Washington state present both opportunities and barriers to reporting sexual assault and remedying justice.
Washington Sexual Assault Laws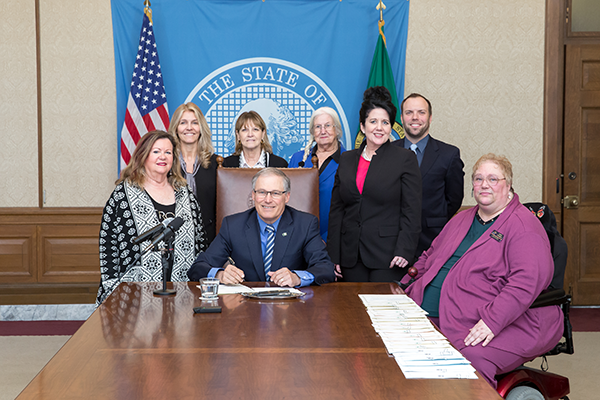 This year, the Washington Legislature passed a number of bills to prevent sexual assault and remove legal barriers to reporting harassment and assault. 
House Bill 2101 provides more funding for sexual assault nurse examiners, who perform the services and testing for rape kits. Only 74 hospitals in Washington employed a sexual assault nurse examiner in 2016, and those that did were not evenly distributed across the state. This led to some survivors of assault having to drive hours to the nearest hospital to receive the appropriate care. HB 2101 makes the nurses available across the state, and fills in the gaps in shift coverage at hospitals that already employed nurse examiners.
Also passed in 2018 was Erin's Law, named after Illinois survivor and activist Erin Merryn, that provides sexual abuse educational curriculum for all Washington schools. The materials include information for students about what to do if they are sexually abused, and helps teach "personal body safety". Children are often afraid to report sexual abuse out of fear of retaliation or blame from their family, making the Washington law that requires teachers to report any knowledge of abuse meaningless if the students are unprepared and uneducated on how to report their experience.
Not all bills were a success though. A bill to require lab testing of the 10,000 rape kit backlog failed without a vote this session. The backlog was catalogued by the Sexual Assault Forensics Examination Best Practices Task Force last year in their report to the legislature. Similarly, bills to expand or remove the statute of limitations on felony sexual assaults on children failed to clear both houses of Olympia.
A Critical Need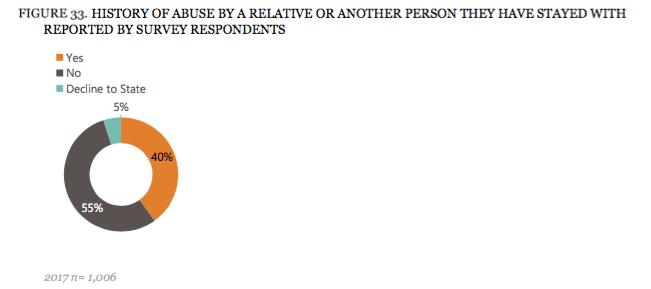 As Firesteel has previously reported, "women of color experience sexual assault at a higher rate and are less likely to report to authorities. Although an average of 33 percent of women have experienced a sexual assault in their lifetime, more than 40 percent of black women will have experienced sexual violence by the age of 18.  For every one woman of color who reports a sexual assault, 15 will not."
Sexual assault is particularly under-reported among immigrant communities who fear that any report to the police may end with themselves or a family member being deported. Assault is also a common factor for women experiencing homelessness, and is a strong contributing component to the kinds of economic instability that puts many more right on the edge of falling into homelessness. All Home King County's survey from the 2017 Count Us In report showed that 40% of those experiencing homelessness had a history of abuse, a huge disparity compared to the county's population at large.
Within the halls of the legislature itself, there is a workplace culture which "silently supports and perpetuates harassment," as a letter signed by 170 women who work in Olympia stated. The letter was written and signed by a bipartisan group of legislators, aides, and lobbyists in the wake of news reports that two Democratic House members had sexually harassed or assaulted women while in office in 2011. The House of Representatives set up a committee to create new laws and policies governing harassment reporting, but the Senate never set up such a committee, and no rule changes were ever passed this year.
How Can You Help Prevent Sexual Assault?
This April, you can help prevent sexual assault by educating your community and family about the strides we've made and the gaps that still remain in Washington. You can join the conversation online with the hashtag #SexualAssaultAwarenessMonth (or #SAAM), and share articles educating folks on the impact that sexual assault has on our whole society. 
Talk with a young man in your life about preventing sexual assault, to help him understand what behaviors are wrong, and how he can push back on the messages that he shouldn't believe women who come forward about experiencing sexual assault.
Finally, you can call your local school to see if they plan to access the curriculum for sexual assault education funded by Erin's Law. All of our children deserve to be protected, and although the law does not mandate schools use the curriculum, you can raise your voice to advocate for it.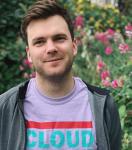 Eric Bronson is the Digital Advocacy and Engagement Manager at YWCA. He manages the Firesteel blog in addition to its social media streams and action initiatives. A graduate of Oberlin College, Eric focuses on the intersection of race and gender within the American political economy.
We tell the stories of those with lived experiences of racism and sexism and invite supporters to take concrete actions to correct the root causes of disparity in our communities.
Featured Image