YWCA's GenRising is a diverse group of professionals under the age of 45, dedicated to promoting and supporting YWCA's mission of empowering women and eliminating racism.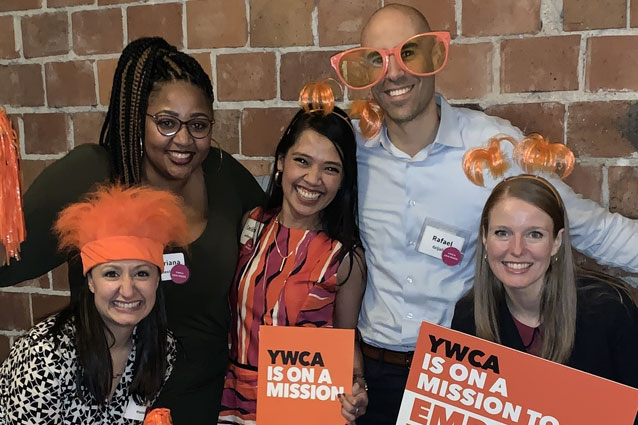 BECOME A GENRISER!
Join other young professionals in the Puget Sound region, become a champion for women and families, and deepen your engagement in the YWCA's mission.
As a YWCA GenRiser, you are the next generation of philanthropists, policy influencers, and community leaders. You are positioned to make sustaining impact on the climate of the community in which you live. Give, get, and grow with us!
This exclusive group will have access to:
Mentorship and networking opportunities to build personal and professional connections in the Seattle area.

Unique and collective ways to get involved in YWCA's community.

Personalized opportunities to expand or create an individual relationship with YWCA, such as becoming a donor, exclusive site visits, and tailored updates.

Learn about current policy issues and advocacy opportunities to support the women and families YWCA serves.
GenRising membership will provide opportunities to meet new people and connect with likeminded young professionals. You will help mobilize action around causes you're passionate about, lend your talent and time to supporting some of the most vulnerable and marginalized people in King and Snohomish Counties, and learn more about how you can be an ally in your community's race and social justice work.
Questions or concerns? E-mail us at genrising@ywcaworks.org.
GenRising FAQ
How do I sign up to be part of GenRising?
Are you between the ages of 21-45? Are you a young professional interested in connecting with others around YWCA's mission and making an impact in your community? We want you! Send us an e-mail at genrising@ywcaworks.org or check our website and sign up online.
Do I have to pay a fee to be part of GenRising?
No! Membership into this exclusive group is free. However, we ask members to participate twice yearly in two or more of the following ways:
Attend a YWCA event
Volunteer with a YWCA program
Make a donation
Do a YWCA site visit
Host a happy hour, lunch and learn at the office, and/or house party on YWCA's behalf
Participate in a race and social justice training, activity, and/or development in your community 
How does the GenRising group differ from other young professional groups?
YWCA grounds our work on behalf of women and families in social justice principles. As a partner with YWCA and a GenRiser, you have the ability to shape the impact YWCA makes in the community. There will be opportunities to voice feedback and offer input on YWCA's goals and direction.
Are there opportunities to join a steering committee or leadership group for GenRising?
Absolutely! GenRising is a great testing ground to be introduced to a wide range of YWCA engagement opportunities. GenRising is led by a small committee, many of whom are current or future board members, event volunteers, or YWCA community ambassadors.