Paid work experience for seniors who want to re-enter the workforce through temporary positions at community-based organizations, plus employment-focused case management.
Title V Employment helps older King County residents gain work experience through paid internships with local organizations. On-the-job training helps workers learn in-demand skills that will increase their employability and chances of finding a permanent position when the internship ends.  
Services provided by employment specialists include: 
Career counseling and job coaching 
Supportive services and transportation assistance 
Employer engagement and outreach 
Training resources, including computer classes 
Resume writing and online job search services 
Monthly job-search workshops and job clubs 
Job leads and networking assistance 
Resource referral 
Title V participants are placed in part-time positions (16 hours per week, on average) at local nonprofit and public service agencies. They receive on-the-job training to learn in-demand job skills in a number of different employment sectors.  
Title V Employment helps nonprofit and government agencies meet their human resource needs with dependable workers. In exchange, these agencies provide real-world job experience and training to help participants market themselves to employers.  
Eligibility & Enrollment
Eligibility requirements for Title V Employment are:
Lives in Seattle or King County 
55-years or older 
Currently unemployed 
Qualify as low income, per federal guidelines
Experiencing challenges entering the workforce
Related Events
Image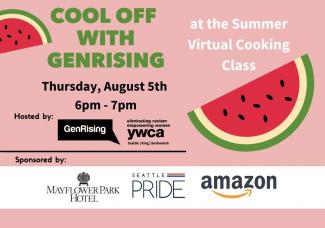 Join YWCA's GenRising and Chefs Tiffany Layco and Jason Hester on August 5 to learn a new summer recipe.
Find out how to get started as a YWCA volunteer.