Resources to Initiate Successful Employment
Location
2024 Third Ave.
Seattle, WA 98121
United States
1010 S. Second St.
Renton, WA 98057
United States
RISE is an employment and job training program to assist recipients of Basic Food benefits with securing work and becoming self-sufficient.
Resources to Initiatie Successful Employment (RISE) is a pilot program that provides individual coaching to assist participants in addressing life barriers and seeking gainful employment.
RISE program participants will receive:
Comprehensive case management to meet individualize needs for successful employment
Assistance identifying strengths, setting goals, identifying challenges, and navigating systems
Job training, placement support, and career guidance
Coordination of wrap-around support services and resources
Work-based learning opportunities
Work-based learning opportunities may include:
Unsubsidized and subsidized employment 
Work study and internships
Career exploration and development of a career pathway
Integration of vocational skills and employability skills with on-the-job training
RISE research study
RISE is part of a national research study on employment and training. If selected to participate, you must agree to be a subject of this study. Not all participants will be selected to receive RISE services but will receive services through the national Basic Food, Employment & Training (BFET) model.
This is a pilot program run by DSHS and partner agencies in King, Pierce, Spokane, and Yakima counties, including YWCA.
Eligibility & Enrollment
Participants should fit into one of the following populations:
Unemployed 12-months or longer
Experiencing homelessness
English language learners
Veterans
Non-custodial parents who owe back child support
RISE services are eligible to people who meet the following conditions:
Receive SNAP (Basic Food) benefits from DSHS
Live in King County
Are experiencing barriers to employment
Fits at least one of the target populations listed above
Does not receive benefits from TANF, SSI, SSDI, GAU, or GAX
To enroll in RISE, please call or email one of the contacts listed above. 
Related Events
Image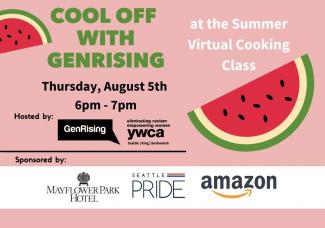 Join YWCA's GenRising and Chefs Tiffany Layco and Jason Hester on August 5 to learn a new summer recipe.
Find out how to get started as a YWCA volunteer.