Stand Against Racism Town Hall
Stand Against Racism Town Hall
Summary
Register to tune in virtually for our annual Stand Against Racism Town Hall on May 5
Featured Image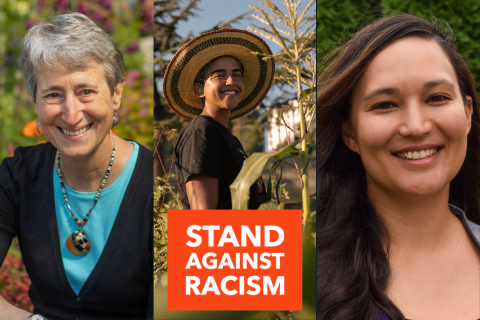 YWCA's 12th Annual Stand Against Racism
Join YWCA Seattle | King | Snohomish and Town Hall Seattle for an afternoon discussion about the intersections of environmental justice and systemic racism. This virtual event is FREE but registration is required.
This year's topic is environmental justice and advocacy nationally, statewide, and locally.
Hear from moderator Sally Jewell (Former U.S. Secretary of the Interior) and panelists Hannah Wilson and Jamie 真理恵 Stroble as they share their views on environmental impacts on communities of color.
This year marks the 12th anniversary of the Stand Against Racism event in Seattle, hosted by the People of Color Executive Council (POCEC) of YWCA Seattle | King | Snohomish.
About Our Speakers:
Sally Jewell (she/her) served as U.S. Secretary of the Interior under President Obama following 40+ years in business, including eight as CEO of REI. In government, she advocated for increasing access to America's public lands, deepening constructive relationships with Indigenous communities, and supporting policies to enhance environmental protections and balanced use of our shared lands and waters. Her volunteer service over the course of her career, including YWCA Seattle | King | Snohomish's Board of Directors, has given her an appreciation of the inner workings of our democracy and civil society.
Hannah Wilson (they/them) is currently the Farm Manager at Yes Farm with the Black Farmers Collective and co-chair of the Environmental Justice Committee for the City of Seattle. In 2019, they graduated from the University of Washington with a B.S. in Environmental Science and Resource Management and a minor in Geography. As a queer, disabled deaf Black non-binary person, their intersectional identity informs the way they walk through the world and the work they do. They have committed their life's work centered around food sovereignty and Black liberation, continuing to organize around community building, growing food, healing, and our relationships to the land and each other.
Jamie 真理恵 Stroble (she/her) is a passionate environmental and climate justice policy advocate, community organizer, educator, and facilitator rooted in Seattle, Washington, and shaped by the lands and waters that raised her in Hawai'i. She has over 15 years of experience working in environmental justice-related fields, including youth programming, leadership development, intergenerational immigrants & refugee programs, affordable housing, food access, air quality & environmental health. From 2016-2021 she served as King County's first Climate Equity & Community Partnerships manager, where she founded and led the creation of the first-ever climate justice framework for King County's 2020 Strategic Climate Action Plan.
About the Stand Against Racism:
YWCA's mission is to eliminate racism and empower women.
Annually, the Stand Against Racism brings together YWCA and our partners across the country to raise awareness of institutional and structural racism, and build community among people working for racial justice.
Stand Against Racism is a signature campaign of YWCA USA, and part of our larger strategy to fulfill YWCA's mission of eliminating racism and empowering women. To learn more, please visit standagainstracism.org
Events
Image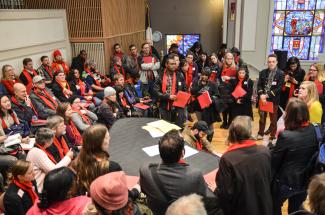 Join YWCA at the largest annual gathering of people working to end homelessness in Washington.
Learn how to get started as a YWCA volunteer.
Learn how to get started as a YWCA volunteer.
Event Node's Related Program