YWCA's 8th Annual Stand Against Racism
YWCA's 8th Annual Stand Against Racism
Summary
Join us for our annual Stand Against Racism event with a panel of experts who will discuss "Looking at Mental Illness Through the Lens of Race and Social Justice."
Featured Image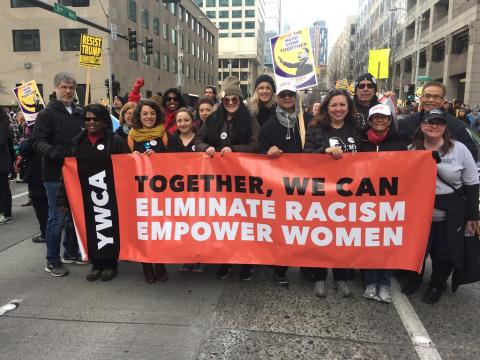 This year's theme will address how institutions like education, health, and criminal justice work to create barriers from childhood through adulthood.
Moderated by Dr. Ivor Horn, this year's discussion is sure to be informative and transformative.  Dr. Horn is Chief Medical Officer at Accolade, a health care navigation company focused on improving people's lives by supporting them through their health care experience. She also has over two decades of experience as a community based primary care pediatrician providing care in communities of color. 
Our panelists include: 
Mark Fadool, Psychiatry and Behavioral Medicine, Odessa Brown Children's Clinic. His work includes running a youth center and working in residential care
Jessica Wolfe, ACLU Washington Lawyer. Her work focuses on civil rights issues impacting individuals in pretrial detention with mental illness.
Sabina Neem, Psychotherapist, Wellspring.  Her expertise includes clinical, policy, and community work including being a founding member of for the Trans-health Information Project.
Daniel Malone, Executive Director, Downtown Emergency Service Center. His work is focused on developing, implementing, operating, and evaluating services and programs for people whose needs have not been met by conventional services and systems of care.
Sara Rankin, Professor, Seattle University School of Law. She is also the founder and Director of the Homeless Rights Advocacy Project (HRAP) in the Fred T. Korematsu Center for Law and Equality at the Seattle University School of Law.
Dr. Sharon Knight, Chief Executive Officer of DSK Culturally Responsive Education Services, LLC. She has contributed to the advancement of education and human service professionals for over 38 years. Her services include coaching, college teaching, consulting, curriculum development, facilitating race conversations, mediation, leadership and organizational development, parent-guardian advocacy, and education.
Take a stand with us at our annual Stand Against Racism event. Stand Against Racism is a signature campaign of YWCA USA to build community among those who work for racial justice and to raise awareness about the negative impact of institutional and structural racism in our communities. This campaign is one part of our larger national strategy to fulfill our mission of eliminating racism.
Other Location
Seattle City Hall (Bertha Knight Landes Room)
600 4th Avenue
Seattle, WA 98104
United States
Event Node's Related Program