It's the time of year again when we invite our community to be a part of Adopt-A-Family, our annual holiday gift drive, and several upcoming holiday meals at YWCA's Angeline's Day Center. Check out these simple steps on how to get involved safely during COVID-19.
The holidays are a special time of year when we come together as friends and family to express appreciation for the people that are dear to us. While the COVID-19 pandemic has changed the ways we gather for the holidays, it doesn't change the deep desire to connect, give back, and celebrate.
For community members living in poverty, the holidays can be a difficult time. Consider the emotional and financial stress the holidays can sometimes represent combined with a challenging year that has disproportionately impacted BIPOC communities and families.
This giving season, YWCA is asking you to support us by adopting a family or donating to our Thanksgiving and Christmas meals at our Angeline's Day Center for women. See the easy steps below to get started!
HOLIDAY MEALS AT ANGELINE'S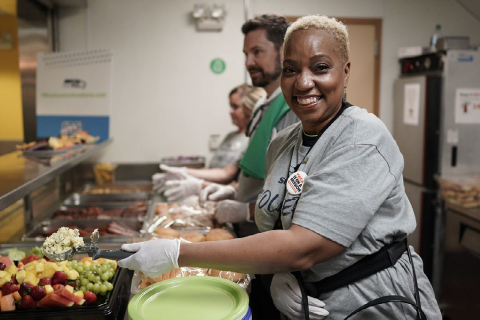 Chef Jason Hester at Cafe Angeline's is preparing for multiple holiday meals this year, including Thanksgiving dinner as well as Christmas brunch and dinner services. See below for our wish list items:
CHRISTMAS
We're looking for sponsors to provide Costco gift cards in order to purchase meals for our Christmas brunch and dinner, serving over 100 women.
 
Additionally, we welcome holiday decorations like poinsettias and garlands, in addition to festive paper plates, cups, bowls, and tablecloths.
If you're interested in donating any of the above items, please contact YWCA Resource Coordinator Nichelle Hilton at 206.375.1496 or nhilton@ywcaworks.org.
ADOPT-A-FAMILY DURING COVID-19
UPDATE: ALL FAMILIES HAVE BEEN ADOPTED!
Thank you to all of our generous donors for participating during a difficult year.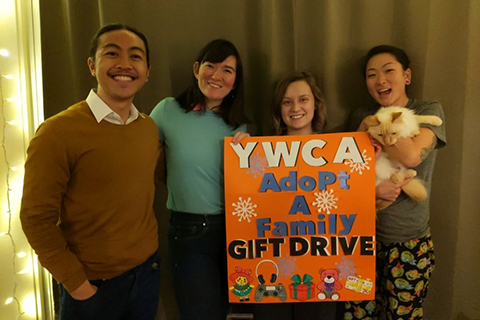 Adopt-A-Family is a program for parents looking for assistance to provide holiday gifts for their family.
Why should I get involved with Adopt-A-Family?
By choosing to give to YWCA families this winter, you are voicing your support for our community with your family, friends and coworkers. Inspire others to join our cause to eliminate racism, empower women and spread holiday spirit.
Unlike past years, this year's Adopt-A-Family will be limited gift cards so that we can ensure the safety of our donors, volunteers, staff, and families.
How do I get matched with a family?
All 2020 families have been adopted. In coming years, let us know that you are interested in sponsoring a family with Adopt-A-Family, as well as the size of family you're wanting to shop for.
Adopt-A-Family Coordinator
Nichelle Hilton
206.375.1496
nhilton@ywcaworks.org
YWCA will match you with a family and provide a family info sheet with names, ages, interests, and which stores the children have chosen. The wish list will be provided before Thanksgiving.
What should I purchase?
To adhere to COVID-19 safety guidelines for our volunteers, staff, and program participants, we will be doing an all gift card Adopt-A-Family program this year. Interested volunteers can still adopt a whole family by purchasing the following:
For the kids: two $50 gift cards per child to the stores of their choosing.
For the family: a grocery gift card for $100
How do I drop off presents?
Gift cards will need to be dropped off drive-thru style in Seattle's Central District on Sunday 12/6 and Monday 12/7. More details to follow once you're matched with a family.
---
Additional info
Matching funds from your employer are welcomed.
Just submit the matching form from your employer and list "YWCA Adopt-a-Family" as the program to the following address: YWCA, Attn: Fund Development, 1118 5th Ave, Seattle WA  98101. 
 
YWCA's tax I.D. number.
Our tax ID is #91-0482890; this may be required on your employer matching gift form.
 
These gifts can be tax deductible.
You may choose to include these gifts with your itemized deductions. If requested, we will provide a tax receipt when you deliver the gifts.
Thank you for supporting YWCA and happy holidays!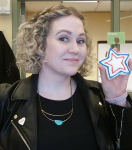 Annalee Schafranek is the Marketing & Editorial Director at YWCA. She contributes agency news, press releases, and media coverage to the website. Annalee's educational and professional experience has always focused on the place where gender equity and media meet.
We share the stories of our program participants, programs, and staff, as well as news about the agency and what's happening in our King and Snohomish community.
Featured Image