It's the time of year again when we bust out our winter coats and enjoy the holiday spirit. YWCA would like to invite our community to be a part of Adopt-A-Family, our annual holiday gift drive. Check out these simple steps on how to sponsor a YWCA family this season.
What is your favorite holiday tradition? Is it the food, visiting family, the weather, gift giving, or maybe just the spirit in the air? The holidays are a special time of year when we come together as friends and family to express appreciation for the people that are dear to us. 
However, for community members living in poverty, the holidays can be a difficult time. Adopt-A-Family is a program for parents looking for assistance to provide holiday gifts for their family. This giving season, YWCA asks the community to support YWCA by adopting a family. See the five easy steps below to get started!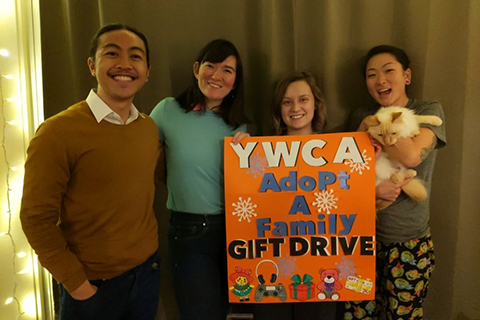 1. Why should I get involved with Adopt-A-Family?
By choosing to give to YWCA families this winter, you are voicing your support for our community with your family, friends and coworkers. Inspire others to join our cause to eliminate racism, empower women and spread holiday spirit.
2. How do I get matched with a family?
Let us know that you are interested in sponsoring a family with Adopt-A-Family, as well as the size of family you're wanting to shop for. This program operates in King and Snohomish County. Reach out to the program contact below with any questions or to sign up for Adopt-A-Family in your county! YWCA will match you with a family and/or adult participant and provide information about each person including gift ideas and clothing sizes. The wish list will be provided before Thanksgiving.
3. What should I know before shopping?
Because unhoused and low-income participants usually receive clothing and toys that have been used, for the holidays we ask for new items only.
For each family you sponsor, we request the following: 
For the kids: we suggest spending up to $100 per child.
For the parent(s)/guardian: a gift or two from their list.
For the family: a grocery gift card for $100 -$150 or more depending on family size to Fred Meyer, Safeway etc.
If adopting an adult participant: we suggest a gift or two from their list and a grocery gift card for $50-$100.
Families that aren't adopted through Adopt-A-Family can receive gifts through Toyshop. Toyshop gifts can be purchased for any kid and donated unwrapped. If you're interested in doing a general toy drive, you can help donate toys to our Toyshop, which serves over 900 kids a year. There is no wrong toy!
4. Should I wrap my gifts?
Gifts given through Adopt-A-Family are bought for specific people and should be wrapped and labeled. Toyshop gifts should remain unwrapped so they can be sorted and distributed to YWCA families. 
5. How do I drop off presents?
Place wrapped gifts in a sturdy bag and label each bag with the participant ID #. This will help keep the gifts intact when delivered to the recipients. Please include a tag with the recipient's name on each gift. Envelopes with gift cards should be labeled with the participant ID# and given directly to a coordinator or volunteer. Our "holiday elves" will see to the delivery of your gifts to their families.
FOR KING COUNTY:
Nichelle Hilton, King County Adopt-A-Family Coordinator
nhilton@ywcaworks.org
Seattle – Drop off gifts to Dexter Warehouse from December 10 through December 14. Address and drop off times will be provided by your coordinator.
FOR SNOHOMISH COUNTY:
Vicki Dorway, Snohomish County Adopt-A-Family Coordinator
vdorway@ywcaworks.org 
Everett – Drop off gifts to YWCA Everett Regional Center (3301 Broadway, Everett WA 98201) on December 10 OR December 11 between 9:30 a.m. and 4 p.m.
Lynnwood – Drop off gifts to YWCA Pathways for Women (6027 208th Street SW, Lynnwood WA 98036) on December 12 OR December 13 between 9:30 a.m. and 4 p.m.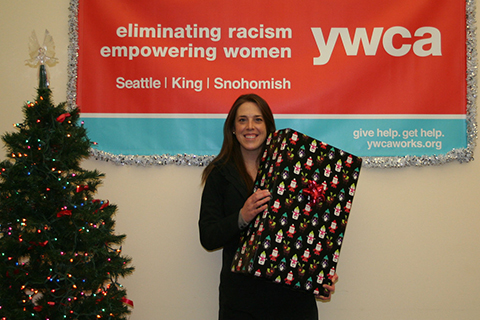 What other information should I know?
Matching funds from your employer are welcomed.
Just submit the matching form from your employer and list "YWCA Adopt-a-Family" as the program to the following address:  YWCA, Attn: Fund Development, 1118 5th Ave, Seattle WA  98101. 
YWCA's tax I.D. number.
Our tax ID is #91-0482890; this may be required on your employer matching gift form. 
These gifts can be tax deductible.
You may choose to include these gifts with your itemized deductions. If requested, we will provide a tax receipt when you deliver the gifts.
---
You can also be a part of a YWCA family's celebration this year by volunteering as a holiday elf! Helping us collect and deliver gifts for our families is a fun and meaningful way to get into the holiday spirit while helping families in need. This is a great opportunity for groups and individuals alike! Contact nhilton@ywcaworks.org to find out how to sign up for a shift in King County.
Thank you for supporting YWCA and happy holidays!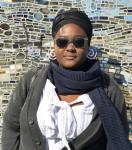 Kendyl Hardy is the Volunteer Services Coordinator at YWCA Seattle | King | Snohomish. As an avid volunteer herself, Kendyl finds volunteering is a way to grow personally and as a community. Kendyl graduated with a degree in Public Relations with a concentration in nonprofit management. Throughout her college career, she worked to highlight the importance of civic service to sustain society and feature dialogue about issues affecting our communities.
We share the stories of our program participants, programs, and staff, as well as news about the agency and what's happening in our King and Snohomish community.
Featured Image